Invasive species walk 18 November 1999 Pohnpei Micronesia
Bill Raynor, of the Nature Conservancy here on Pohnpei, gave a presentation to the SC 250 Botany students on biodiversity and the impact of invasive plants on Pohnpei. The talk included a walking look at local invasives in Palikir.
Bill started with a talk on the meaning of biodiversity. Biodiversity refers to the many different forms of life. The greater the biodiversity the larger the number of unique species in an ecological niche. He noted that the Nature Conservancy seeks to protect biodiversity by protecting lands and waters as well as the plants and animals that belong in a given place.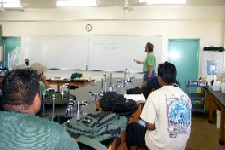 Bill defined the following plant categories:
Native: Plants brought from elsewhere by natural acts prior to the arrival of man. Plants brought by seeds blowing in the air, brought by floating in on the water, or brought in by birds (either stuck to their feathers or carried inside the bird and then released in their fecal matter.) These plants, while not unique to Pohnpei, have been here for ten of thousands of years. After the volcanic birth of Pohnpei some eight million years ago, cyanobacteria, mosses, then ferns, and probably a few seed plants arrived on Pohnpei and began to grow.
Endemics: only live in that one place, on, for example, a single island. Pohnpei has the most endemic species in the FSM. Endemics are plants that arrived as natives possibly millions of years ago and evolved into unique species as they adapted to the environment of Pohnpei. Clinostigma ponapensis (mountain palm, kotop) and Cyathea ponapeana (tree fern, katar) are endemic to Pohnpei (note that there are two Cyatheas on Pohnpei, the other is Cyathea nigricans). Nunu and kah are endemic to Kosrae (Pohnpei's kah is a shrub).
Introduced: Plants brought in by people. Some are "good" plants. Plants that are important as food or in cultural roles. Plants such as hibiscus, breadfruit, ti, yams, taro, and sakau are all plants people brought that are functionally important to society. There are other introduced plants, aggressive invasive weeds, that were brought intentionally and unintentionally, that threaten to crowd out our native and endemic species (thus reducing the biodiversity of Pohnpei)
Aggressive invasive species use a number of tactics to "take over" an island or an ecosystem:
Shading: The invasives grow faster than the endemics and natives, shading the local plants and thus stunting their growth.
Moisture: The invasives are often more adept at monopolizing moisture in the soil and by taking up virtually all of the available moisture they deny water to endemics and natives.
Reproduction: The invasives often out-reproduce the natives and endemics, crowding them out.
Fertility: Invasives suck up the nutrients from the soil and thus deny needed nutrients to local plants.
Allelopathy: Invasives often release toxins and hormones from their roots that inhibit the growth of neighboring plants, effectively poisoning the native and endemic plants.
A tour of local invasives
Eleusine indica, a grass known locally as reh takai.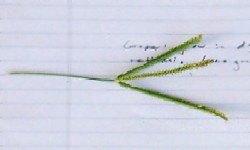 Pennisetum: brought in by the Japanese who mistakenly believed cattle would eat it. Below Bill lectures while holding Wedelia trilobata.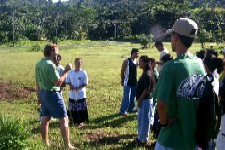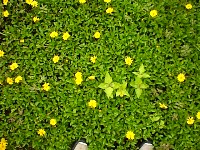 Wedelia trilobata: brought from Hawaii by women down at the Catholic mission around 1970 who thought it would look nice in their gardens. All over the island now. Possibly allelopathic.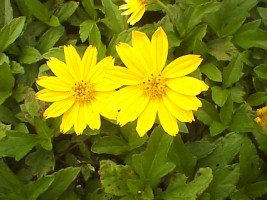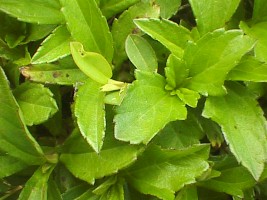 Chromalaena odorata. Pohnpeian: wisolmat. Global in distribution. Locally known as wisin mat en rere, but don't say that out loud on Pohnpei. Possibly came in on a tractor, maybe in dirt in its treads, spread around the island when the road was bulldozed.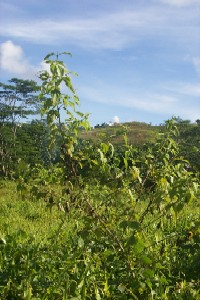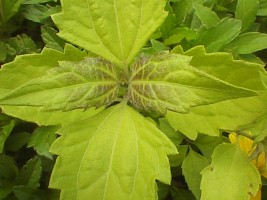 Albizia lebbeck
An alien species but not considered an aggressive alien. Light wooded tree used for chop sticks in Asia. Locally called tuhken kerosihn due to its ability to burn green. An important source of firewood for local families.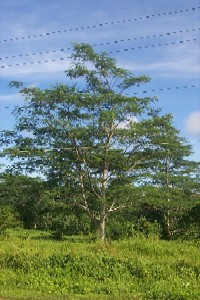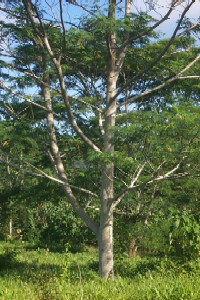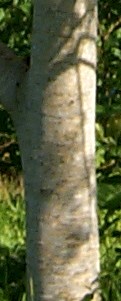 Bidens alba: Begggar's tick.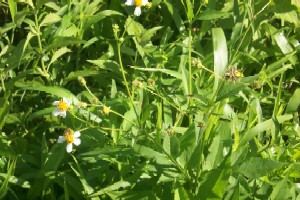 Mimosa pudica. Sensitive plant. Invasive. Worse: Mimosa invisa. The later forms impenetrable thorn thickets.
Clover vine.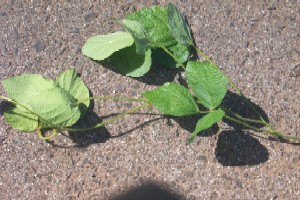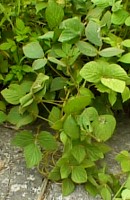 Ischaemum polystachum: Invasive grass introduced by Japanese. They thought it might be useful for cattle food but NOT!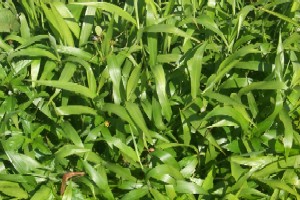 Nara. A member of Ficus. Not invasive on Pohnpei.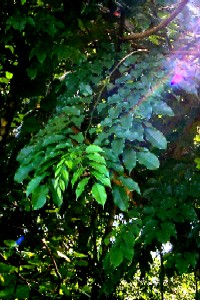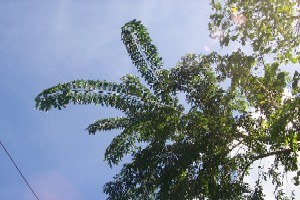 Invasive Ipomea spp.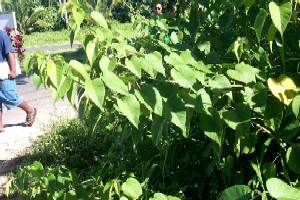 Mangifera indica: mango. Potentially invasive!
Melastoma malabathicum: A native plant!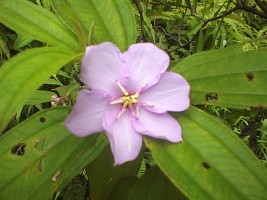 Alien bush:
Acacia auriculiformis: a tree that spreads by suckers. A problem on other islands. Do not plant.
Spathodea campanulata: African tulip tree. Birds spread the seeds. Very aggressive tree. Cut them down.
Commelina diffusa, a member of the Spiderwort family, possibly related to Wandering Jew. Note leafy bract under the flower.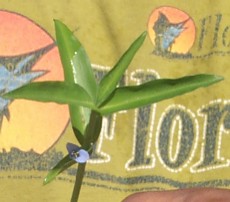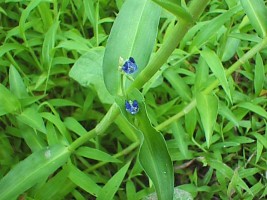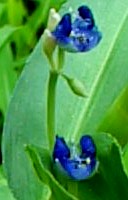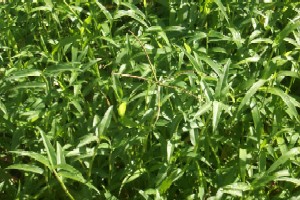 Ageratum conyzoides. Pwisehn kou in Pohnpeian (cow dung weed).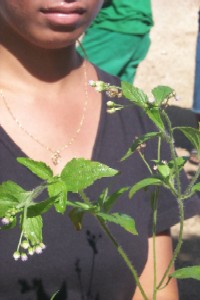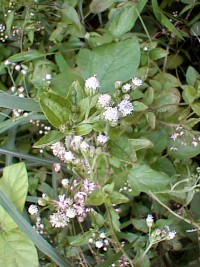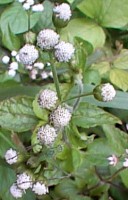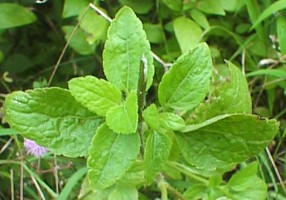 Combating invasive species: Watch for plants that are new to Pohnpei and that spread rapidly. Destroy all plants as soon as it appears it might be aggressive. Wedelia trilobata came to the island as a single plant - how easy it would have been to wipe it out back then. Now it is beyond control. On your own land you can, with a few years of hard work, remove all of it. But the plant will never be gone from the island.
Local medicinal tree: topuk?