The enrollment at all campuses are much higher this Fall Semester than Fall Semester 2008, as of 5:00 p.m. on Wednesday, August 19, 2009.  This is the first semester that enrollment at the National Campus has exceeded 1000. The headcounts for Fall Semester 2009 are as follows:
| | |
| --- | --- |
| Campus | Students Enrolled |
| Chuuk | 580 |
| Kosrae | 217 |
| National | 1,001 |
| Pohnpei | 730 |
| Yap | 207 |
| Total | 2,735 |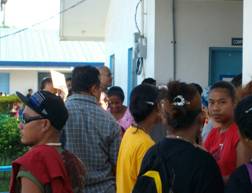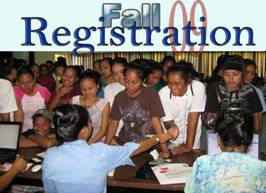 President James and Director Peter met with the Chuuk State leadership in regards to the Accrediting Commission for Community and Junior Colleges (ACCJC) concern expressed at their June 9-12, 2009, meeting that was held in California.  A review of the College of Miconresia-FSM's Follow Up Report which was submitted on March 15, 2009, and the report from the  one member visiting team from ACCJC on his visit to Chuuk, National, and Pohnpei Campuses on April 28-May 1, 2009.  The Commission mentioned the pending issues at Chuuk site, especially unreliable power at Chuuk Campus. They are requiring the College to address  the issue before the March 2009 reaffirmation visit.
Copies of the ACCJC's  letter of June 30, 2009, to President James were distributed to Chuuk State leaders.  President James and Director Peter explained the concerns of the commission, its impacts on the College's accreditation, and the college's plan of action to resolve the issue.  For example, the impact of unreliable power at Chuuk Campus is the inconsistency of delivery of programs and services which could lead to the College losing its accreditation.  The leaders expressed their support on addressing the issue facing Chuuk Campus.  They discussed the option of providing funding for the operation and maintenance of generators at Chuuk Campus as well as securing funding for installation of solar energy at Chuuk Campus.  They also requested the College to submit to their offices the estimated costs for fuel for running the generators at Chuuk Campus for a year.
President James and Director Peter expressed their appreciation to the leaders and informed them that the College will submit the estimates that they requested as soon as possible.
President James welcomed new students, continuing students, new faculty/staff, and continuing faculty/staff at Chuuk and National Campuses during the orientation and registration weeks and outlined his goals for school years 2009-2010. The following were his goals:
to complete the writing of the self-study report and submit it to WASC on time
 increase the retention rate by 5-10%,
to continue to improve the image of the College by working collaboratively with the governments, parents of students, and other key stakeholders,
to work with the education systems in the FSM on bridging the gap between elementary and high schools and high schools and COM-FSM,  and
to establish one more partnership BA Degree program at the College.