COM-FSM Holds Second English Speech Competition
The second annual COM-FSM English Speech Contest was held at the Pohnpei Legislative Chamber on the evening of December 3, 2008 . Six students from the College participated in the contest. The winners were Yolanda Joab (1 st place), Sylvia Soram (2 nd place) and Casandra Brackett (3 rd place). The College congratulates the three winners as well as the other competitors. The other competing students were Marvin Jack, Asumy Henry, Leilani Giltinag and Kimberly Edwin.
The titles for the winning speeches were "Our Growing Epidemic: Silenced by Blindness", "Should Pohnpei, or Other Islands of the FSM Prioritize Economic Progress Over the Environmental Responsibilities and Concerns" and "Sustaining our Garden Island".
The College thanks Mr. Toshiyuki Inoue for sponsoring the contest, Keiko Fuketa for organizing and assisting the students with their speeches, Pohnpei Legislature for allowing the College to use the Legislative Chamber, and all judges for their time and efforts on judging the speeches.
The following photographs were taken after the competition: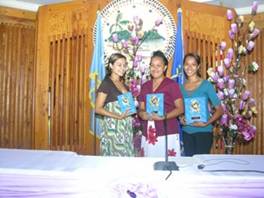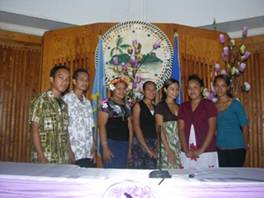 Winners: Casandra Brackett, Sylvia Soram and Yolanda Joab
College Celebrates World Aid Day 2008
The College of Micronesia-FSM joined the rest of the World on December 1, 2008 and celebrated the World Aid Day. The National Campus activities for the event included marches at the National site by faculty, students and staff. About 155 employees and students screened for STI's, which include HIV infectons, and over 100 were administered influenza virus vaccinations. President James gave the opening and welcoming remarks and the keynote address was presented by Brother Dave Anttonelli S.J.
The following photograph was taken at the end of the event: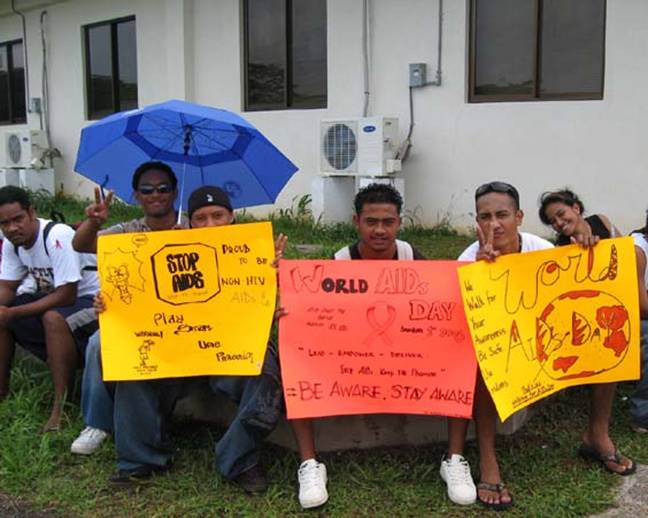 College Holds Christmas Concert at National Campus
The Christmas Concert took place at the FSM/China Friendship Sports Center on December 4, 2008 , evening at 7:00 p.m. The concert was organized and conducted by Music Instructor Brian Dietrich and had music students from the music classes at the COM-FSM's music classes.
The College thanks Mr. Dietrich for his outstanding services to the college.
The following is a photograph of the event: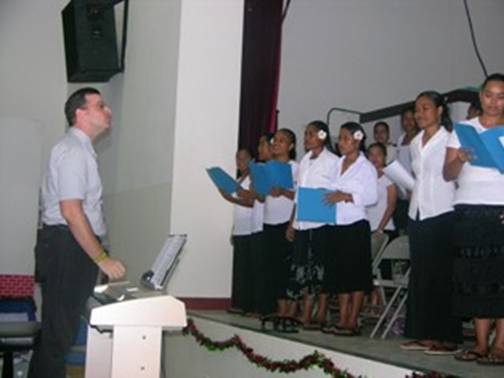 Thank you.