M E M O R A N D U M
August 20, 2008
MEMORANDUM
To : All Concerned
From : President
Subject: President's Update #315
COM-FSM Students Receive STAP Scholarship Assistance
The Samahang Tagalog Atbp. sa Ponape (STAP) has awarded six College of Micronesia - FSM students scholarship assistance. Each student will receive a total award of $500 for school year 2008-2009 and will be payable at $250 per semester.
STAP is a regional association of Filipinos in Pohnpei whose primary purpose is to encourage Micronesian citizens to pursue a post high school education through its scholarship assistance program. Application forms and guidelines are available online and may be downloaded from http://www.comfsm.fm/~pulmano/opportunities.html
At a friendly luncheon and awarding ceremony held at the China Restaurant on August 5, 2008 , STAP President, Rafael Pulmano, congratulated the following award recipients: Christopher Delcampo, Merleener Elias, Fritz Gallen, Warren De Martini Neth Lebehn, Grace Ann Tobin, and LaShauna Wilson.
Mr. Freddie Ricafrente, STAP Founding President and Chair of the Scholarship Committee, also conveyed his congratulations to the award recipients and expressed the hope of the Filipino community in Pohnpei to continue to avail this service to our students. The awardees were urged to improve themselves by being dedicated to their studies.
The COM-FSM President, Spensin James, was invited to the award ceremony where he expressed his appreciation and gratitude to the association for its support of the College and its students. President James personally handed the checks to the awardees.
In his closing remarks, Pulmano commented to the scholars that they could help their fellow Micronesians by passing on information about the scholarship to them as well as by supporting STAP's various fund-raising activities like the Annual Fun Run/Walk and Bingo Social Events.
The event was attended by several officers and board members of STAP and by Mr. Joseph Felix, Jr. of COM-FSM National Campus.
The following photos were taken during Registration Week at Kosrae Campus: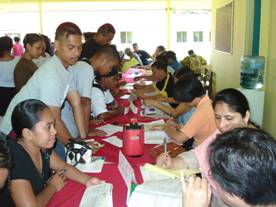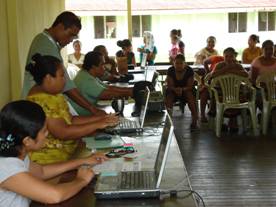 President James attends FACSSO meeting in Chuuk
President Spensin James of the College of Micronesia - FSM attended the FACSSO meeting in Weno, Chuuk during the week of August 11-15, 2008 . (FACSSO stands for FSM Association of Chief State School Officers). The agenda of the meeting included the following: teacher certification, basic skills courses minimum standards, textbooks requirements from JEMCO, bridging the gap between ECE through 14, consolidated FY 2009 Education Sector and FY 2008 SEG Budgets, ECE as a transition program for children between ages 3-5, and others. FACSSO also adopted the following resolutions:
A resolution supporting the need to continue the implementation of the JEMCO mandate on textbook purchases with same requirements but with flexibility given to each FSM state for the use of the funds;
A resolution to endorse a single reporting system for the education sector in the FSM;
A resolution supporting the use of Compact IDP funds for accessible public school facilities;
A resolution to enforce teacher certification requirements; and
A resolution to continue early childhood education (ECE) services as a significant preparatory component of the FSM school system.
APAFS Country Investment Conference concludes at National Campus
The Asia Pacific Association for Fiduciary Studies (APAFS) selected the FSM-China Friendship Sports Center Practice Gym as the venue for the Mini Investment Conference on August 19, 2008 . The mini conference in Pohnpei is part of a series of other planned conference being held in preparation for the major conference in Manila , Philippines scheduled for the week of October 9-10, 2008 . During the Pohnpei conference, it was disclosed that the mini conferences will no longer be referred to as "mini" but will be replaced with "country" since they are being held in each participating country. Most of the participants for this Mini-Investment Conference will be attending the Pacific Region Investment Conference in Manila , Philippines .
The agenda for the Country Investment Conference included the following:
Introduction
The Prudent Process presented by Mr. Jason Miyashita APAFS Instructor
Update on Defined Contribution Retirement Plans in Micronesia presented by Don Clark, Vice President, ASC Trust Corp.
Lunch
The Current Status of APAFS and the October 2008 Pacific Region Investment Conference presented by Mr. Mark Heath, Deputy Executive Director, APAFS.
U.S. Domestic Capital Markets Outlook presented by Mr. Jim Staub, Senior VP., Atlanta Sosnoff Capital Management.
International Capital Market Outlooks presented by Mr. Mark J. Heath, CFA, Senior VP., Metropolitan West Capital Management
Market Volatility and Long Term Investing presented by Jason B. Miyashita CRPs, AIF, APAFS Instructor.
Conference Wrap-Up presented by Mr. Jason Miyashita.
The following COM-FSM faculty and staff attended the conference: Mr. Danny Dumantay, Mr. Joseph Saimon, Mr. Joseph Habuchmai, Mrs. Pelma Palik, Mrs. Juvilen Mariano, and Mr. Spensin James. President James delivered the welcoming remarks at the Conference.
The following photos were taken during the conference: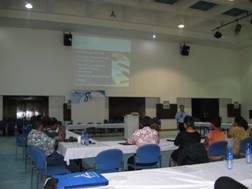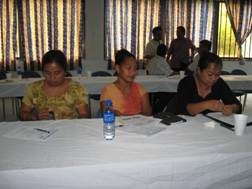 COM-FSM Board to hold 3 rd Quarter meeting in Yap
The COM-FSM Board of Regents Third Quarter meeting has been scheduled to take place during the week of August 27-29, 2008 in Yap State . Board meetings are open to the public. The following are the agenda items: