M E M O R A N D U M
July 26 , 2007
To: All Concerned
From: President, COM-FSM
Subject: Update #296
FSM-China Friendship Sport Center as the Site for the FSM President's Joint Inauguration
Over 1000 people attended the FSM President's joint inauguration on Monday, July 16, 2007, at the FSM-China Friendship Sport Center. The photo given below captured the spirit of the people that attended the spectacular inauguration: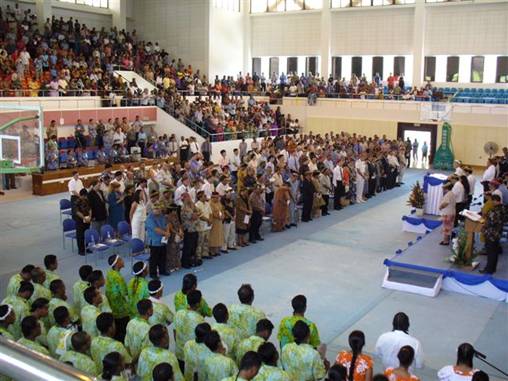 Noni TrainingWorkshop in Yap
The Agricultural Experiment Station of Yap Campus in collaboration with Yap State Division of Agriculture conducted a training workshop on N oni cultivation, processing and marketing between June 25 and 29. This was the first ever comprehensive training workshop conducted on noni in Yap. Twenty enthusiastic participants actively attended this workshop for five days. The workshop was facilitated by Drs Scot Nelson and Craig Elevitch from Hawaii. Over the course of this workshop, participants had lecture and hands on training on noni cultivation, field collection, data recording, garden design strategies, processing techniques for various noni products, pests and disease survey of noni plants and marketing strategies. As part of the workshop, a wide array of noni products from Hawaii and other parts of the world were on display, wherein participants also had a chance to taste and test some of them, and compare with locally made noni products. Overall feedback about the workshop was very good as revealed by the evaluation conducted at the end.
A Business Meeting was also arranged with a particular focus on production and marketing. Representatives from local government, Yap Small Business Development Center, local media, Department of Resources and Development besides subject experts from Hawaii were invited to address various concerns of participants in relation to production and marketing of noni in Yap. All pertinent issues were discussed in full length during this meeting and participants decided to form a core group for further action.
Photo: Workshop participants with facilitators. Inset (top, left) Noni products in display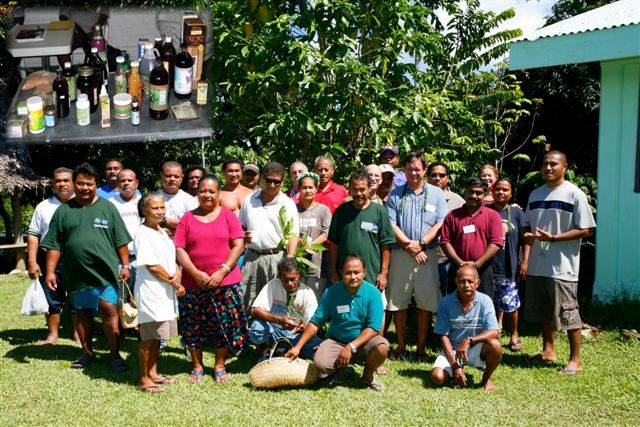 Partnership BA Program in Elementary Education at National Campus
Twenty two in-service and pre-service teachers have applied for the Partnership BA Program in Elementary Education and are accepted into the program this summer. There are a total of 30 students who are taking the program courses this summer. Some of these students are taking the 3 rd year level course requirements before they can be admitted into the program. Drs. Lourdes M. Ferrer and Bernadita C. Dunga from the UOG School of Education are at the National Campus teaching the following UOG Courses:
ED 319 Children's Literature and Drama
Ed 351 Fine Arts Methods
Ed 473 Developing Cognitive Abilities
ED 489 Evaluation
COM-FSM Kosrae Campus Held Its Annual Graduation
Kosrae Campus held its annual graduation on July 20, 2007 with over 250 faculty, staff, students and parents attended the ceremony. The total number of 17 students graduated in the following areas: twelve students received their AA Degrees in teacher preparation in Elementary Education, one student received an advanced certificate in Electronics Technology, one student received a certificate of achievement in Agriculture and Food Technology, one student received a certificate of achievement in Carpentry, two students received certificate of achievements in Electronics Engineering Technology.
Kosrae Campus also conducted its annual Faculty and Staff Incentive Awards during the week of the graduation. The following faculty and staff were recognized for outstanding performances given awards:
| | |
| --- | --- |
| Dokowe Goerge | Staff of the Year Award |
| Skipper Ittu | Student Choice Award |
| Wo Finroah | Good Health Award and Professional Recognition |
Updates from Yap Campus
The Summer Session 2007 began on June 7 th as initially scheduled. This is the first Summer Session that classes have started on schedule, thanks to Yap Department of Education and Yap Division of Transportation for their efforts, assistance and support. Summer enrollment is at 185 students.
Students in the Introduction to Music class had a Choral Music Concert, led by Dr. Patricia Kelly on July 18 th on Campus. They performed for all students, faculty, and staff. Congratulations and kudos to music class and Dr. Kelly for an excellent performance.
The Second Graduation Ceremony for Yap Campus will be held on July 27, 2007 at the campus. It will be a joint ceremony for Yap Upward Bound students as well as 21 students who have completed their certificates and degrees requirements.
Board of Regent
Due to the reduction of the Board of Regents' budget by the FSM Congress, the Board's scheduled meeting during the last week of August in Kosrae has been relocated to the National Campus in Pohnpei. A preparatory timeline schedule has been distributed to Cabinet members in preparation for this upcoming meeting.
Update on Higher Education Reauthorization: A Senate Bill Introduced and Passed
Update from CHEA: On Tuesday, July 24, 2007, after weeks of negotiations with the higher education community and a day and half of debate, the Senate voted 95 t o 0 to approved S. 1642 reauthorizing Higher Education Act (HEA). The bill will extend authority to the federal government's higher education programs for five years. The amended version of this bill is a significant improvement over the committee bill reported out on June 20. Key changes for accreditation in the amended version are:
Student Achievement. Accrediting organizations are to examine institutional success with regard to student achievement in relation to institutional mission. The standards, may vary by institution, are to be established by institutions. Eliminated in the bill passed by the Senate is the laundry list of government-specified outcomes indicators (e.g., student retention rates, course completion rates) as well as the language about "empirical evidence" and "external indicators" that was in the committee bill.

Transfer Credit. The amended language on transfer of credit does not prescribe the content of an institution's credit policy as was contained in the committee bill. Accrediting organizations are to review institutions to assure that schools (1) have a transfer of credit policy and (2) make this policy public, including criteria for transfer of credit earned at another institution.

National Advisory Committee on Institutional Quality and Integrity, NACQI. The bill would eliminate NACIQ and, within 30 days of enactment, establish an Accreditation and Institutional Quality and Integrity Advisory Committee, which would advise the Secretary with respect to recognition of accrediting agencies. The Committee would have 15 members, 5 appointed by the Secretary, 5 appointed by the Speaker of the House of Representative and 5 appointed by the President pro tempore of the Senate.
Although the Senate has completed its work on reauthorization, the House has yet to write a bill and will take up the reauthorization in September.
Health Insurance (MiCare) Open Season
This is a friendly reminder from the Director of Human Resources regarding the MiCare Open Season. If you would like to make changes to your health insurance plan or enroll in the program, please do so asap. The deadline for submission to DHO is on July 30, 2007. The effective date of any changes/enrollment is still in October 1, 2007.
Thank you.