M E M O R A N D U M
May 02, 2007
To: All Concerned
From: President, COM-FSM
Subject: Update #292
Accreditation
The College's Accreditation Liaison Officer is working with the Vice President for Instructional Affairs on the Substantive Change Report for the AS Degree Program in Nursing. We hope to submit this report to the Chairperson of the Substantive Change Report at WASC by the end of second week of May 2007.
As a member institution in the Pacific Postsecondary Education Council (PPEC), the College is required to submit accreditation updates of significant activities and accomplishments to the ACCJC for WASC. On Friday, April 27, 2007, the College of Micronesia-FSM submitted its Accreditation Update Report on accomplishments and significant activities for the past six months to Mrs. Susan J. Moses, a commissioner for ACCJC for presentation at their meeting. I would like to thank the ALO for completing this report.
Board of Regents
The COM-FSM Board of Regents' meeting is scheduled for the week of May 21-24, 2007 here in Pohnpei. The meeting venue will be at Pohnpei Campus who will be the host of this meeting. One of the major items of discussion at the upcoming BOR meeting will be on the budget guidelines for fiscal year 2009. These guidelines will provide the guidelines and procedures for the campuses and departments to develop their FY 2009 budgets.
College of Micronesia-FSM Entrance Test for School Year 2007-2008
A total of 1624 high school seniors from all high schools in the FSM took the College of Micronesia-FSM Entrance Test. The Admissions Board is inviting students based on three categories that were determined by the total test scores on the COMET. The 75% of the COMET is based on English scores and 25% is based on Math scores. The categories and combined scores are given below:
Categories Combined Scores
| | |
| --- | --- |
| Degree Bound Students | Students that have a combined score of 700 and up on the COMET.(about 400 students) |
| Certificate Bound Students | Students that have combined scores of 300 to 699 (about 965 students) |
| Not Invited | Students that have combined scores of 299 and lower (about 259 students) |
The following are the breakdown of the categories from each of the FSM States:
State Non-Admit Certificate Degree Total Results
| | | | | |
| --- | --- | --- | --- | --- |
| State | Non-Admit | Certiticate | Degree | Total Results |
| Chuuk | 219 | 300 | 59 | 578 |
| Kosrae | 8 | 92 | 63 | 163 |
| Pohnpei | 25 | 408 | 221 | 654 |
| Yap | 7 | 165 | 57 | 229 |
| Total | 259 | 965 | 400 | 1624 |
Course Selection at National Campus for Summer Session and Fall Semester 2007
The course selection for continuing students at the National Campus were completed during the month of April 2007 for Summer Session and Fall Semester 2007. About 409 students course selected for Summer Session and 600 course selected for Fall Semester 2007.
The last day of instruction for Spring Semester 2007 is May 7, 2007. Final Exams for Spring Semester are scheduled for May 8,9,11, 2007 and graduation will be on May 18, 2007. The Summer Session 2007 begins on June 4, 2007.
Spring Semester 2007 Graduation at National and Pohnpei Campuses
Eighty one (81) students from the National Campus and twelve students from Pohnpei Campus have applied for Spring Semester 2007 Graduation. Spring Semester 2007 graduation is on May 18, 2007.
Staff and Faculty Incentive Awards 2007 at National Campus
The staff and faculty incentive awards for 2007 at National Campus is scheduled to take place on May 16, 2007. Nomination forms for the six (6) award categories have been circulated for faculty, staff, and students to complete their nominations and submit the completed forms to the Staff Development Committee. The following are the award categories:
Innovative Idea Award - $100 for the winner
Faculty of the Year Award - $250 for the winner
Staff of the Year Award - $250 for the winner
Professional Recognition Award
Community Service Award
Award of Recognition - $250 for the winner
Employee Retirement
Good Health Award
Student's Choice Award - $50 for the winner
Pohnpei Campus and Chuuk Campus both are conducting ceremonies of their staff and faculty Incentive Awards on May 4, 2007. The other campuses will be doing theirs later this school year. The event is an annual event and should be conducted toward the end of the school year.
Spring Music Celebration
Dan Meyer's last concert as music instructor at COM-FSM National Campus was held on the evening of Tuesday, April 24, 2007. The program consisted of choral music from around the globe. The evening began with the Micronesian National Anthem and continued with songs from Micronesia, Melanesia, Asia, Africa, Europe, North America, and the Middle East. Both the National Campus Music students and the Pohnpei Community Choir performed selections. The multicultural musical program was enjoyed by a full house and the performance received a well-deserved standing ovation for their performance.
Other individuals who assisted with the concert included Patty Kelly who provided the instrumental music before the concert; Koisimy Rudolph who brightened up the gym with decorations; Charles Arthur who designed the poster; Susan Kihling who provided flute accompaniment; Eugene Augustine who set up the sound equipment and document the event on video; and Doug Kelly who assisted with the sound equipment.
I would like to join Catherine Good and publicly congratulate Dan Meyer on the wonderful concert on April 24, 2007 evening. We know that it took many hours and much .effort to produce a concert of such quality and variety and this should be recognized. We would also like to express appreciation to Dan for his contributions during his tenure at COM-FSM. His musical production over the last three years have enriched campus life and helped strengthened ties between the College and the local community.
Supplemental Education Grant Funds for FY 2007
Word has been received from the OIA staff in Honolulu, Hawaii that Supplemental Education Grant funds have been obligated and were being transferred to OIA-DC office. It will take another month or so before the funds are released by OIA. The release of the funds are contingent on the submission of the SEG Plan from the FSM DOE Office.
COM-FSM Annual Fun Walk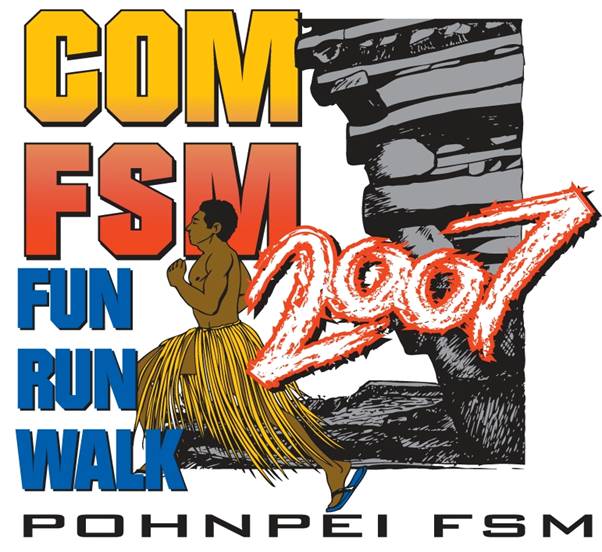 The Eleventh Annual COM-FSM Fun Run Walk for the Endowment Fund is scheduled on Saturday, May 5, 2007 at 7:00 a.m. Start and finish at Palm Terrace Shopping Center. $5.00 Registration Fee, with t-shirts to all finishers and trophies to top finishers. Registration starts at 6::30 a.m.
We encourage all faculty, staff and students to participate and support the COM-FSM Endowment Fund.
National Campus Spring Semester 2007 Final Exams Schedule
Hours

Tuesday, 05/8

Wednesday, 05/9

Friday, 05/11

8:00-10:00

All MWF

8:00-8:55 classes

All TTh

8:00-9:25 classes

All MWF

9:00-9:55 classes

10:05-12:05

All TTh

9:30-10:55 classes

All MWF

10:00-10:55 classes

All MWF

11:00-11:55 classes

12:10-2:10

All TTh

11:00-12:25 classes

All MWF

12:00-12:55 classes

All TTh

12:30 -1:55classes

2:15-4:15

All MWF

1:00-1:55 classes

All TTh

2:00-3:25 classes

All MWF

2:00-2:55 classes

4:20-6:20

All TTh

3:30-4:55 classes

All MWF

3:00-3:55 classes

All MWF

4:00-4:55 Classes

&

All other classes
IMPORTANT DATES
May 7 Last Day of Instruction
May 8-9, 11 Final Exams
May 14 Deadline for Final Grades Due from Instructors
May 18 Graduation/Spring Semester Ends

Postal rate changes
Notices posted at the Post Office in Kolonia indicate that FSM Postal Service rates will be increased effective May 14, 2007. Information obtained so far indicates that regular letters - first class mail to other FSM states and to the US will now cost 41 cents (previously 39 cents) and postcards 26 cents. International mail – first class will now start at 69 cents (previously 60 cents). All offices are urged to take note. Should you need details, contact the local post office directly.
Pohnpei Campus Technology and Trade Exhibit
Pohnpei Campus had a Technology and Trade exhibit on the 19th and 20th of April, 2007 with the objectives to (1) increase awareness of the technical and trade programs to the community and (2) promote the importance and the image of technical & trade training. On the 19th the exhibit was open to the general public, government officials, and the private sector. On the 20th the exhibit opened to high school seniors in Pohnpei (public and private schools). There were 10 showcases situated the T&T classrooms and workshops. These included:
1. Electronic soldering skills
2. The use of the NIDA Training System on Electronics and Telecommunications
3. Fiber optics installation skills
4. Personal computer assembly and software installation
5. Consumer electronic repair skills
6. Cabinet and furniture making skills
7. Refrigeration and Air conditioning skills
8. Small Engine & Automotive repair skills
9. Residential wiring skills
10. Industrial wiring skills using SIMUTECH training systems

Students demonstrated and presented various tasks while being observed by visitors. According to the people who visited the exhibit, including senior college staff, faculty, diplomats, government officials and members of the community, the students and faculty did a great job. The exhibit was a great success and our appreciation to the students, faculty and staff of Pohnpei Campus for opening up the campus for the public to see what we do and offer.
Student Leadership Conference
The Student Leadership Conference that brought nearly 300 high school and college students to the College's national campus ended on Friday, April 20, 2007. Students, mainly from the TRIO programs all over the FSM (SSSP at COM-FSM, and Upward Bound and Talent Search from the FSM public high schools) were joined by other non-TRIO students in a week of activities that included cultural shows, site tours, visits to government leadership and enrichment sessions. Our appreciation goes to Kosrae and Pohnpei Upward Bound Directors Morgan Jonas and Churchill Edward, respectively, for their leadership. We also thank all the other program directors and staff for their participation and to the national and Pohnpei campus staff who assisted make the conference a success. We look forward to receiving the high school participants as students of COM-FSM in the near future.
Thank you.