Utwe Congregational Church Building Dedication
19 December 2003
Pre-Dedication Contributions
Utwe peoples worked through the night to prepare for the dedication. Many people on Kosrae spent the night in Utwe to assist with the preparations. I worked with Salik Taulung, Patrick Taulung, Murphy Taulung, and others in preparing seven pigs for the dedication. Salik can be seen here carrying two of the seven to the dedication. This is the only time Kosraens prepare pigs in this fashion. Pigs are never brought whole to a funeral as in Pohnpei. Thus the only time one sees dead pigs being moved on the road is for a new church building dedication. The manner of preparation is completely unique to church dedications.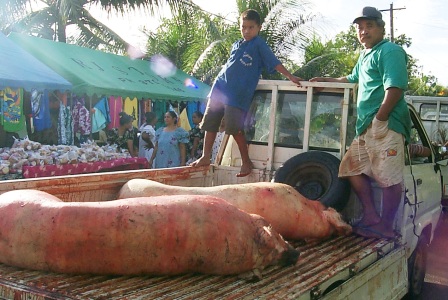 The pigs are prepared by killing the pigs, scalding the skin with hot water, and then using knives as razors to remove the hair. The result is a white pig. The pig is then gutted and smeared with blood to make it red. Truly a sacrificial pig.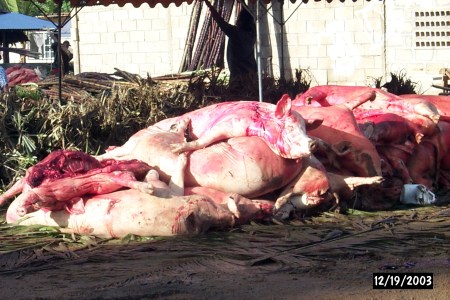 Malem's contribution is being unloaded below. Pigs, sugar cane, hard taro, and coconuts were all part of the contributions. Two flatbed trucks and numerous pickup trucks were needed for the Malem contribution alone.

The boys unload the sugar cane contribution.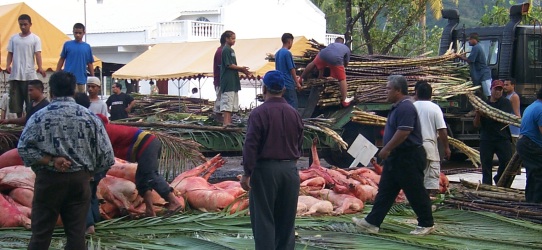 Rinson Phillip passes sugar cane down the line.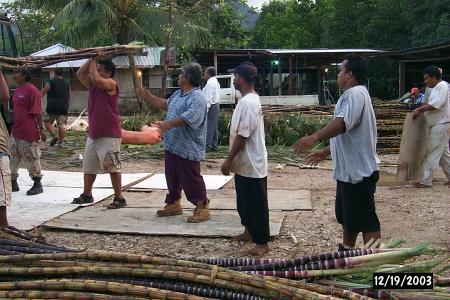 Rinson Phillip passes baskets of coconuts, a task akin to passing baskets of shotputs.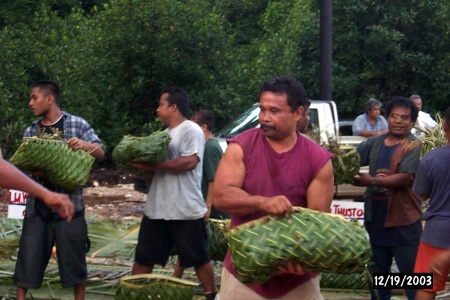 The Malem coconuts pile up at the Utwe Church dedication.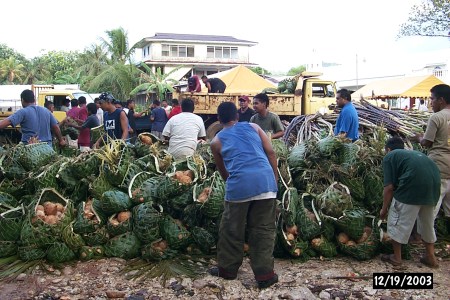 Dedication
Bermin Weilbacher of BNN stands at the ready with his camera for the dedication ceremonies. The dedication banner is enlarged in the upper left corner.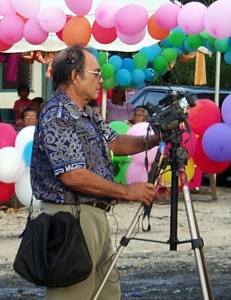 Bags of buns and cinnamon rolls for the guests at the dedication. All Kosraens on the planet Earth were invited to the dedication. The various contingents present can be seen on the Utwe Christmas marching page.
Annabelle Nena, on the right, was one of many who circulated in the crowds passing out the dedication programs. Annabelle would also march on the front line for Utwe Etawi Fwasr on Christmas in Utwe.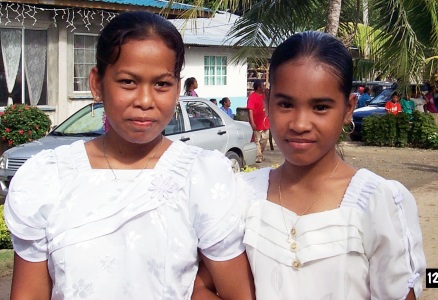 Two youth choirs sang during the dedication.