Math Science Software Specialist Summer 1999 Travel Report
---
Table of Contents
Micron DVD Computers Setup
LiveMath
Math Matters
Computer Clean-Up
Viruses
Student Records Work
Maritime Marine Fisheries Academy
Hawai'i Algebra Learning Project
Kapiolani Community College Visit
Guam
Digital Camera Field Work
Model: SE440BX2-PII350-ATX
Date of Manufacturer: 06/1999
Monitor: 700 Cx 17"
Setup Supervisor password: ice
Did not set up profiles. Opted for Control Panel and Desktop lockdown only. Policy Editor was used to deny direct access to control panel and to hide the desktop icons. Windows Explorer was tucked into System Tools submenu and rooted My Documents and Floppy A: Drive Explorers were put on the Programs menu. The Policy Editor was not deleted from the System Tools folder. This was done because the "student mode" used at the national campus has proven problematic at the state campuses. The result is that most state campus computers were found to be running in supervisor and not student mode: the student mode configuration had been bypassed. This suggested that the student mode was too constrictive and confusing, hence the choice for a lighter, basically non-secure approach that avoids using any sort of profile.
CPU SN
Win 98 License
Office 97 License
Location
Kosrae
1679618-0001
18099-OEM-0075952-50746
20195-OEM-0002516-95895
Lab
1679617-0001
18099-OEM-0075952-19514
20195-OEM-0002516-95895*
Lab
Yap
1679620-0001
Not noted.
Not noted.
Student Services
Not Set Up**
Box
Chuuk
1679622-0001
19299-OEM-0075952-04902
20195-OEM-0002516-95895*
Library
1679621-0001
Not noted.
Not noted.
IEP classroom
*My original notes have the same numbers recorded although they were recorded at three different times in three different locations in my date book. At the time I did not notice that the numbers were the same.
** There was no where to set up the second computer. Second computer will be set up in the computer laboratory when the new building is complete.
LiveMath, Math Web Pages, Math Software, and Botany Pages
Kosrae
The LiveMath modules, the Cognitive Approach web pages, and the math study reports were installed on the math science computers. The Botany MicroneScience pages were installed on the new Micron DVD computers. Dr. Ray Zepp was shown the material. Access to the material was provided by icons directly on the Programs menu.
Yap
The math related material was put onto all computers, while the Botany web pages were loaded only onto Zip drive equipped math science computers. A single DVD computer was set up on the Student Service's Specialist's desk as there was no space in the existing laboratory for the computer.
Yap campus is equipped with digital camera equipment and with a scanner to use in the production of computer based materials, the DVD computers have the hardware capacity to handle the images the new Kodak DC-260 will be producing.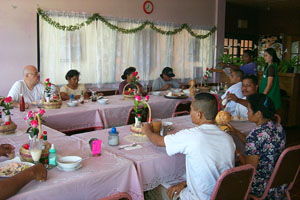 Chuuk
The math related material was put onto only the Micron DVD math science computers and the one math science computer that remains in the library. The Botany material was also loaded onto the DVD computers. Margarita expressed an interest in the process that generated the Botany material. The material was also viewed by Director Enlet. The Director was more excited about the MicroneScience material than anyone else I had shown the material to during the trip. I used the opportunity to suggest the acquisition of a digital camera. I also used the opportunity to sort out the Chuukese names of some of the specimens. Thus the project enjoys another success: material prepared by COM-FSM students was generating a discussion of Chuukese botany and of science six hundred miles away and nine months later in a library in Chuuk.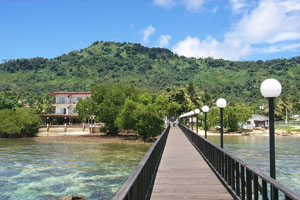 Kosrae
I held discussions with Dr. Zepp on a wide range of topics spanning everything from the structure of our current program to the philosophies of mathematics. Dr. Zepp expressed a strong interest in developing a state campus math course for students in certificate programs that would be different in focus from the present MS 095 PreAlgebra course that many students in certificate programs currently take.
Dr. Zepp noted quite correctly that these certificate students are typically scoring below 30 on their math entrance test: these students have already been deemed insufficiently prepared for MS 095 at the national campus. I would ask, if they are unprepared for MS 095 at the national campus, why are they presumed to be ready for the exact same course at a state campus? Dr. Zepp's solution is to create a course that focuses on math skills in the workplace, skills relevant to students who will be in the job market after their one year certificate program. This course would likely number below both the national campus course numbers and the IEP campus course numbers.
I noted that at the Pohnpei campus special technical math courses were being written for specific programs. Dr. Zepp indicated that the relatively small number of certificate students at the Kosrae campus proscribes the creation of multiple subject-specific certificate math courses.
Yap
Two part-time instructors came in during their vacation time. I gave a presentation on the math software available in the computer laboratory and on the work I had done in math with Title III. The two instructors were different from the instructor of the year before, and by next summer I presume that there could be yet two other new instructors handling the math classes. Providing training, support, and continuity in the face of regular staff turn-over is a dubious venture at best. I spent most of my time helping the two instructors sort out course sequencing, goals, grading, standards, methodologies, textbook requirements, and other math program matters.
The Yap instructors are not using the correct MS 095/MS 098 textbook, they are still using a version that was last in use Fall 1996. The fastest solution I can see at this point is to simply buy a copy of the correct text from the bookstore here and send that out to Yap until they can order the correct textbook either directly or through Martin.
Chuuk
Officially Danilao was on vacation, but I was able to brief him on the new LiveMath pages and other math support software that I placed on the computers at the campus.
On all state campuses the math science computers were looked at and cleaned up.
At the Chuuk Campus Ken and I undertook work to upgrade Gateway P5-100 computers that had a mere 8 Mb of RAM from Win 95.A to Win 95.B. The machines were experiencing a variety of odd problems, principally screen freezes and problems accessing their floppy drives. One computer had a bad hard drive, one had a bad floppy drive, Ken combined the good hard drive with the good floppy drive to create one operational computer out of two dysfunctional computers. Which brings to mind the need to install a "cannibalization authorization" policy at the College for computer equipment.
On all state campuses F-Prot 305b was installed with the most recently available versions of sign.def and macro.def. The two new Micron DVD computers were configured with F-Stop activated. In Kosrae a few computers in the laboratory might not have been upgraded to F-Prot 305b. Access to computers was impacted in part by ongoing programs in the laboratory at the time of the visit.
Campus
Viruses Found
Kosrae
Appderr.A
Concept.A
AntiCMOS-C (one computer)
Yap
Ethan.A (Word 97)
Cap.A (Word 95)
Chuuk
AntiEXE (on an Upward Bound computer)
| | | | | |
| --- | --- | --- | --- | --- |
| | Left in Place | Hardware Needs | Software Needs | Training Needs |
| Kosrae | Extant Excel spreadsheet system designed by Willer Benjamin. Did perform some clean-up of existing system. | None | None. BETTYbase is installed on the hard drive. Specialist not trained in its usage. | Extensive: Training needed in Word, Excel, and Access. |
| Yap | An Excel Spreadsheet system that mimics the structure and style of BETTYbase (the database system in use at the national campus) | Pentium II 128 MB class machine within two months | Microsoft Office 97 Professional with Access 97 | Moderate: Training needed in Excel and Access. |
| Chuuk | Extant FileMaker Pro software. Refer to Kenneth Girrard's report for details. | No immediate needs. May need to acquire new hardware to run Access 2000 in two years. | Access 97 only | Moderate: Training needed in Excel and Access. Training would have to take into account existing FileMaker Pro background of student services specialist. |
The computer in use in Kosrae was using a profile named nsfksa1 or some such odd name. I set up a profile with the name OAR-Kosrae with the password "farpoint." Farpoint was the original password used on the database in 1995.
Both Francisco Mendiola and Kenneth Girrard are likely to report on the MMFA visit, during this visit I acted as a photographer.
The first two images are of a room that is lined on all six sides with metal sheeting and has a metal door. I joked at the time that the room must have been used by the CIA. Later a Yap Campus staffer asked us if we "had seen the CIA room." My own guess is that the room might have been used to test radio equipment and that there had been a need to eliminate stray radio signals.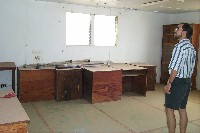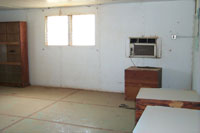 The next three images were taken in the machine shop.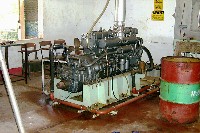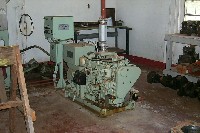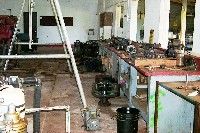 Detail of equipment on bench. Note that a glimpse of the generator can be seen through the window at the right side of the image.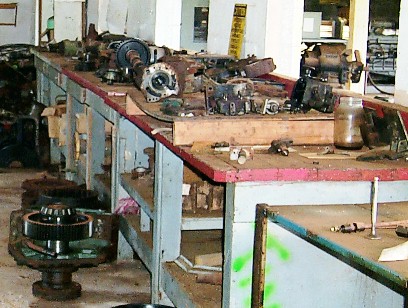 Kenneth Girrard and Shrue Lee Ling tour the machine shop.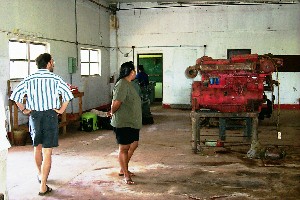 I spent two weeks in Hawai'i at the Hawai'i Algebra Learning Project. Here I became acquainted with the high school curriculum Algebra I: A Process Approach. I also assisted the participants in accessing the Internet support component of the workshop.
The Internet support component is a web site that supports threaded discussions and is accessible to the general public at http://www.edgateway.net. Once an Internet user has registered with the site, users can participate in various forums. The participants in the Hawai'i Algebra Learning Project are supported out of the Pacific Algebra Network Forum.

For the sake of brevity, this report will not detail the Hawai'i Algebra Learning Project. The outcome of this workshop is likely to be my own involvement in the math methods course this coming Spring term.
Integrated Media and Technical Services (IMTS) Director Bert Kimura and I talked and toured the IMTS facilities in Honolulu. Bert now heads ALL technology on campus EXCEPT the delivery of technology training services to students. All computers, AV, photocopiers, telephones systems, print shop, and USPS mail services are under IMTS. If the equipment has chips in it then it falls under IMTS. Integrated Media and Technical Services are NOT under the library: they report directly to a Dean, akin to our VPIA. IMTS does all tech service and support, they even run the telephone switchboard. Thus Pastora's mail service would fall under Bert as would Ligaya Apis-Esiel's telephone receptionist position. Bert said to think big: someday you will want to integrate telephone and computer network with voice over IP, digital video. Also: instead of a network printer he suggests buying a Xerox Document Center machine. It is a piece of equipment that I have not seen before but it appears to be a combination network printer and scanner. Bert said that their unit has been very productive. I expressed concern about service and support for such a unit here. A list of IMTS functions is included at the end of this document.
While on Guam I acted principally as a driver for my colleague in his search for video equipment for the Chuuk Video Project. Bert Kimura (see above) noted that we should pursue a Premier video editing option for Chuuk: Avid and MediaOne are too over the top, complex, for us, in his opinion
The new Kodak DC-265 digital camera proved to be a formidable weapon in the field. The camera saw use in Saipan, Yap, and Chuuk. Some of its output is shown further below.
There is a great deal of difference in the output of different photo software packages. The original image is an 804 Kb JPEG with dimensions of 1536 x 1024 pixels. The equivalent bitmap would be 4.6 Mb. A section of the original image is seen further below. The image was first reduced to 300 x 200 pixels and then saved as a JPEG image. Image quality was set to get as close to roughly 40 Kb as possible.
The first image on the upper left was produced by Microsoft Photo Editor (39664 bytes). The second image, either on the right or below the first, was produced by ArcSoft PhotoStudio (38786 bytes). The third image in the sequence was produced by Adobe PhotoDeluxe BE (46052 bytes). Note that Adobe PD BE could not produce image sizes between 30 Kb and 46 Kb. While the Adobe image is softer and has a "blurrier" feel to it, note that the Adobe image preserves the horizontal members in the shutters and in the roof end without JPEG artifacting.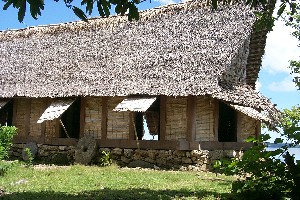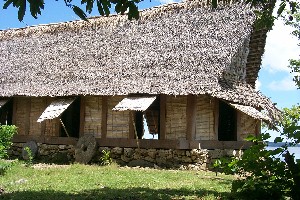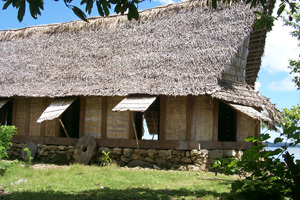 The following is a section of the original image, the same image that generated the above images. Note the detail present in the thatch and the structure of the horizontal members as double strakes. Detail such as thatch can be particularly difficult for lossy compression schemes such as JPEG.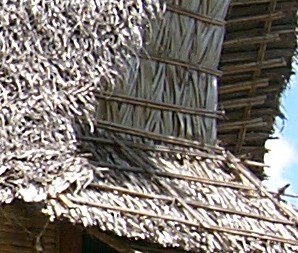 The camera also performed well under unusual lighting conditions. Images of sunsets and sunrises have not been possible with the current Sony camera, the images suffer from extremely high contrast.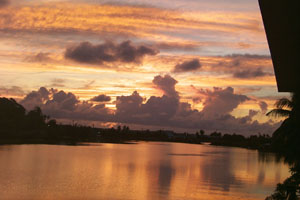 The new camera can also due timed exposures, the following is a 30 second shot of the Aces store shot from across the Blue Lagoon (from the ESA hotel). The red streak on the right was a car.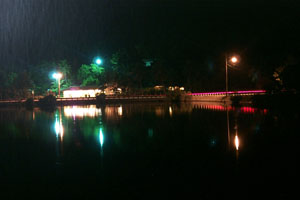 The camera appears to be adept at capturing botanical images.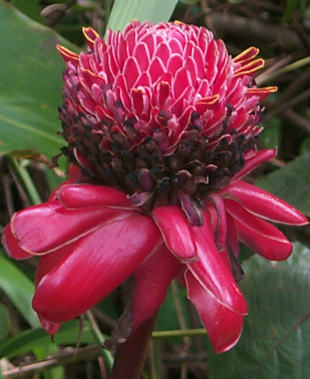 At the Pacific Education Conference I attended sessions covering the Hawai'i Science Teachers Association (HaSTA), traditional herbal medicine preparation in Chuuk, and a session on the plants used on new mothers in Palau. I also worked two shifts at the exhibition booth and presented a section of the Title III presentation.

Two student workers accompanied Title III and presented a section of the overall presentation, Emma Mori and Evelyn Soumwei. The presence of our student presenters appeared to be unique at the conference. Anecdotal evidence suggests their presence made a strong positive impact on the audience.
Cognitive Approach
Mathematics Support Software
MicroneScience
Cognitive Approach Mathematics: MS 095 PreAlgebra
From the concrete to the abstract
From manipulatives to symbolic systems
Concept, not topic, based
Spiral structure
Cognitive Approach Results
No differential impact expected nor seen in MS 095
Statistically significant downstream impact
Mathematics Support Software
Algorithmic Algebra Tutor
Interactive Algebra and Trigonometry CD
LiveMath
Math Software Student Impacts
No statistically significant improvement pre-test to post-test as a result of the introduction of computing technologies.
Students self-report the software is helping them learn mathematics.
Students are able to explore and investigate mathematical material that previously could not be handled.
Tutorial role of computer laboratory coordinator an unforeseen benefit.
Math Software Faculty Matters
Build in future flexibility:

1995 faculty wanted a customizable math notebook software environment in which to author their own materials
1999 faculty wants off-the-shelf pre-built prepackaged software that directly supports textbook

Design a lab schedule up front with faculty buy-in for preserving open laboratory DAYS
While some instructors are comfortable with computer technologies, those that are not will require multiple terms of assistance, support, and TLC
MicroneScience Botany
Cyberlibrary of local science information
Computer as tool
Students' as knowledge constructors
Concept piloted in SC 250 Botany
Botany Student Impacts
Students reported the use of computer technologies:

Increased interest in Botany
Made the course more interesting
Should be continued in future courses

Students became researchers
Subject became relevant to the students
Students gained a new eye on their natural world
Botany Lessons Learned
Students may be more flexible and open to new technologies than faculty
Students will put in weekend and evening time to work with new technologies
Learning to use technologies and build web pages required an initial full three hour laboratory period
Posting of student data required faculty member to have computer and Internet connection on their own desktop
Further Information
Cognitive Approach
http://ourworld.compuserve.com/homepages/danaleeling/cogapp.htm
LiveMath
http://ourworld.compuserve.com/homepages/danaleeling/math.htm
Botany Virtual Herbarium Pages
http://www.geocities.com/TheTropics/Cabana/4705/Botany.html
HTML version of above presentation:
http://ourworld.compuserve.com/homepages/danaleeling/t3pp01.htm
Information & Media Technology Services (IMTS)
General Information
Information & Media Technology Services (IMTS) enables faculty, staff and students to excel and succeed in learning through technology innovations, administrative applications and instructional development.
IMTS staff provide the following services to KCC faculty and staff
Coordination & Reception
Complaints and suggestion box
KITE (Kapi'olani Information Technology Emphasis)
News and announcements
Consultation
Computer Lab & Desktop Support
Computer lab technical support
Lab hardware installation and maintenance
Lab software installation and maintenance
Troubleshooting assistance for office computers
Customer Support Center
General inquiries
Work request status
Development & Training
Instructional design
Online course development
Help with computer software use
Workshops and seminars
Web site development & assistance
System & Applications Management
Multiuser computer application development and support
Web server management
Network & Directory Services
Data network design
Directory assistance
Mail and message delivery
Networking infrastructure support
Telephone service
Packaging & Graphic Design
Duplication
Graphic design
Office copier support
Packaging and binding
Printing
Signs, posters & displays
Printers & fax machine support
Repair & Maintenance
AV equipment repair
AV equipment set-up
Computer repair
Equipment check out
Video systems design and installation
Video, Multimedia & Distance Learning
Conferencing support
Distance education
Video production
Multimedia production
Self Service
Audiotape dubbing
Lamination and binding
Videotape dubbing
Xeroxing