Half-marathon
The fifth annual INS half-marathon was held on . Five sunny rainless days preceded the half. Saturday was no different. The afternoon start time meant that the first hour would be brutal. Thirty-five runners signed up for the event. I was number twenty-five.
I had a ham and cheese sandwich at Joy Hotel and then I caught a brief afternoon nap before I walked down to Nakasone's store for the start. Shrue and kids were at Nihco for the Utwe celebration. So I notched in a couple kilometers of light jogging and walking before the start of the run.
The pack took off at too fast a clip for all but the most seriously trained runners. I noted that I was going out way too fast at 10.2 kph. Although in last place, I focused on bringing my pace back under control. The gradual rise into Namiki-Mapusi slowed many of the younger runners. A good number of roughly ten to twelve year old local boys had joined in. By Namiki I was passing some of them.
The sharp rise at Dolihner hill continued to reel in the pack even as I dropped my pace. A 58 year old Pohnpeian dropped off me in this stretch. The first water stop was PICS. My pace was still too fast, up around 9.8 kph. I reached Kaselehlie=Elenieng intersection at 30:34 and started my stop watch as a back up to the GPS.
Outbound hospital I was still moving along with the tiring tail of the pack. The sun was at my back and a slight headwind breeze reminded me that the inbound would be vicious. The next water stop was out near Last Stop.
I reached Nett bridge far side at 46:52. Although my Mizuno Wave Renegade fours had just come in the day before, I opted to use them given that my threes dated back to . The threes were all but dead, held together by layers of Shoe Goo. Summer school had brought me just enough spare money to afford a pair of shoes for the first time in three years. Although the golden hour was not feeling so golden, my feet and knees were fine. My legs were tiring in part due to the sheer heat of the road. I felt the sense that Nansapwe was not with us.
Adding to the effort was a bursty stream of inbound cars from the pideken rong mwahu. Lots of rather overweight and out of shape church members headed home after a day of eating and praying. The cars were loaded with yet more food and an occasional uhmed pig. Maybe call it the pideken mwenge mworourou. All of us in a death march. The half marathoners in a death shuffle under the sun, the aramas pidek eating themselves to death.
Bollie was on the water stop on the Nett/U boundary as she was last year.
I had met Tim Smith last year just past Paulino Rodriguez' place in Nett. This year I did not meet the first inbound runners until up along the Awak Pah coast in U. I got a chance to see the return bound runners and cheer them on. The children in U were great while the adults clapped. The up and down into the turn-around was made easier by the support.
Inbound to the turn-around I caught up to a female Peace Corps runner wearing an iPod. I called out encouragement, as did the children, but she was apparently oblivious to everything. She seemed to be moving rather mechanically, looking neither left nor right, a trudging jog up into U. She did not react to the children or the adults. I happily wasted energy greeting everyone and calling out "Mie sakau?" I thought the iPod odd. Here you are in a strange new land and you close it out and live in your iPod world. Why not stay in Kansas with Toto?
At the turn-around I knew my problem was low salt reserves. I was drinking a cup of water at each water stop, but I knew I was not sweating efficiently at that point. There was an open bag of corn chips, I grabbed three and washed them down with a cup of water. I downed three cups of water in all and then headed back toward Spanish wall. The U inbound was blessed with a cumulonimbus tower blocking the late afternoon sun. No rain, but some welcome relief from the sun.
My spirits were boosted when my "Kaselehlie mainko!" met with a chorus of "Kaselehlies" and one woman's "Mwahuki ohlo!" I took that as proposal and felt flattered.
Inbound my legs were going wooden and I was occasionally dragging a foot on ground contact. I downed two cups at Bollie's station, but I knew my problem was electrolytes to fire my leg muscles and promote sweating, not hydration.

Inbound at Green Bay market [Photo by Brian Lynch]
When I reached Jun Felix's, he was up on a bench next to his house. I called out to him. Maybe this tipped off Joe Habuchmai, because he was waiting next to the road with an outstretched coconut. Brian Lynch snapped photos as I slugged down coconut juice. Without that coconut, I think I would have crashed on the later uphill into Etscheit and Pohnpei campus.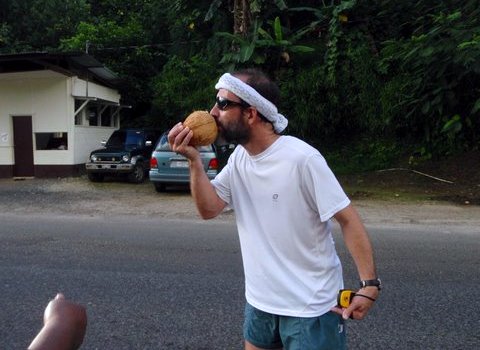 Electrolyte replenishing energy drink - Pohnpei style [Photo by Brian Lynch]
My spirits boosted by my support crew at Kusto's, I crossed Nett Bridge at 1:52:30. Today there really had not been a golden hour. I only knew that I could not pulled from the route if I crossed Dausokele by 6:00 P.M. I was back on my regular evening running route.
Inbound at last stop, in the distance ahead, I could see one of the Peace Corps runners. He was struggling in the heat. I saw no one behind me. Distance running is usually this way - left alone to one's own thoughts. Many sports on the planet are social events with team mates and spectators. Distance running is a unique beast. There is only yourself and the road or trail ahead.
The uphill past Pohnpei campus was tough. Had there been another uphill I might not have it. A final water stop at land commission and then a gentle down slope into the finish line helped me pick up my feet and improve my turn-over.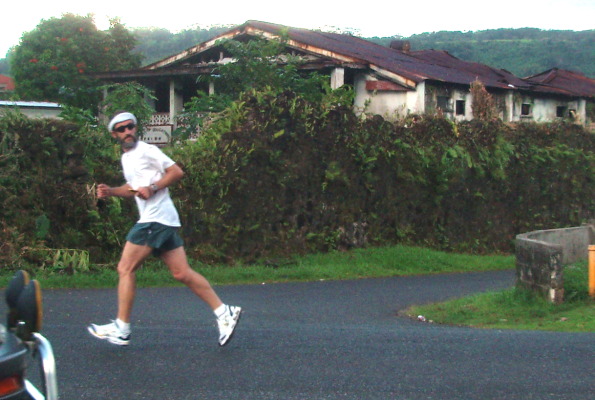 Dana coming in to the finish line of the INS Nakasone Half-Marathon [Photo by Shrue]
I finished twelfth with a clock time of 2:14:14 for 19.8 km as measured by the eTrex GPS I carried. I showed a moving time of 2:11:56. That means my moving pace was 6'40" and my moving pace was 9.00 kph. My pedometer, which had under a thousand at home prior to walking down to the run, showed over 23000 steps. I would end the day at 23780 steps. The final leg in from Nett bridge was 21:44 for 3.109 km (est) and a pace of 6'59". Under seven means I felt worse than I was actually performing. The course closed shortly after I came in. I was not last, but only a couple more runners finished - maybe fifteen in all of the original 35 who started.
The following evening would usually be an evening off. Although there was some residual stiffness and delayed muscle onset soreness, I felt good enough to go out for a five kilometer slow trot. The taper certainly helped, but credit also has to go to the Mizuno Wave Renegade 4. Runners are passionate about their shoes - they are the one most vital piece of equipment. As a long time ASICS motion control fan the switch to Mizuno was not without trepidation. Earlier attempts to shift to New Balance or other brands did not go well. That the 4 would run so well out of the box was startling.