Arc of a Sphere
In this activity we will explore the shape of the path through the air made by a sphere. The path is a path in two-dimensional space. The graph will be a space versus space graph using the MKS system.
We will be working outside to measure the arc of the sphere. The set-up and variables to be measured are seen in the following diagram.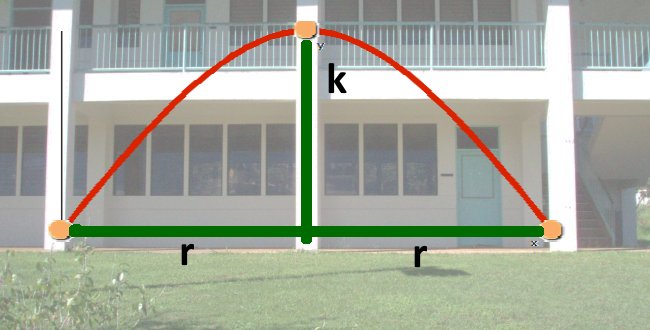 Where k is the height of the y-intercept above the x-axis
and r is the distance from the axis of symmetry to one x-intercept (root).
Task
n
Position title
Student name
x
y
Right x-intercept
1
Ball underhand pitcher
2
Meter stick holder
3
Recorder
right mid arc height
4
Tape measure holder
x
y
5
Tape base holder
6
arc height observer
7
Data recorder
Vertex height k
8
Tape measure holder
Same as 4
x
y
9
Tape base holder
Same as 5
10
Vertex position observer
11
Data recorder
left mid arc height
12
Tape measure holder
x
y
13
Tape base holder
14
arc height observer
15
Data recorder
Left x-intercept
16
Ball catcher
x
y
17
Meter stick holder
18
Recorder
x-intercept to x-intercept
19
Wheel roller
distance = 2r
20
Recorder
Theory
Does our data agree with the theory? Use a spread sheet to plot the data. Set up a table like the seen below for spring 2008. Make an xy scattergraph of all three columns. Use the k and r from the activity to calculate the predicted path. The function below is an example based on the spring 2008 data. Your values of k and r will be different. Spring 2008 k was 2.2 m and r was 3.0 meters. The presumes that the column titles are in row 1 and that the first x-value is in cell A2. This formula would be in C2 and can be "filled down" for the next four rows.
=-(2.2/(3.0^2))*A2^2+2.2
Data from spring 2008
Data for the arc of a sphere

| location x (m) | y1 actual height (m) | y2 predicted height using the equation(m) |
| --- | --- | --- |
| -3.0 | 0.0 | 0.00 |
| -1.5 | 1.3 | 1.65 |
| 0.0 | 2.2 | 2.20 |
| 1.5 | 1.4 | 1.65 |
| 3.0 | 0.0 | 0.00 |