A walk amongst the gymnosperms and food plants of the Pohnpei Botanic Garden (pohnpeivb@mail.fm 320-4851)
0. Gymnosperm: Thuja orientalis. Eastern cedar. Located at Palm Terrace on the side.
1. Angiosperm: Syzygium aromaticum. Clove tree.
2. Gymnosperm: Araucaria columnaris. Cook Island Pine (male). Family: Araucariaceae
3. Angiosperm: Cinnamomum carolinense. Pohnpei cinnamon tree madeu
4. Gymnosperm: Cycas rumphii (male). Sea cycad with cone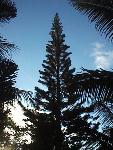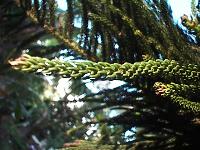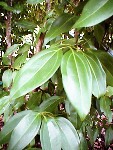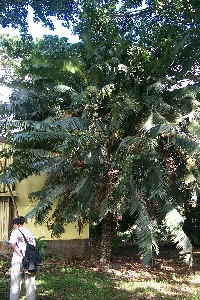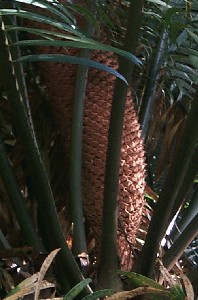 5. Angiosperm: Coffea arabica. Coffee flower and bean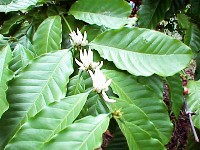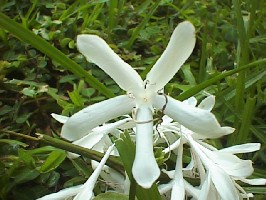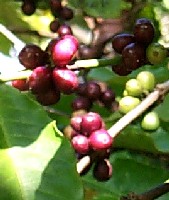 6. Angiosperm: Piper nigrum. Black pepper. Family: Piperaceae.
7. Angiosperm: Myristica fragrans. Nutmeg and the spice mace.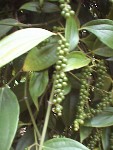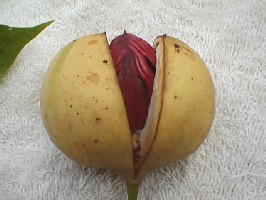 8. Angiosperm: Piper ponapense. Pohnpei pepper vine konok. Family: Piperaceae.
9. Gymnosperm: Agathis spp.. Family: Araucariaceae. Near tennis courts.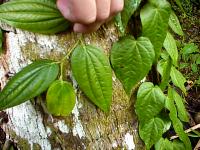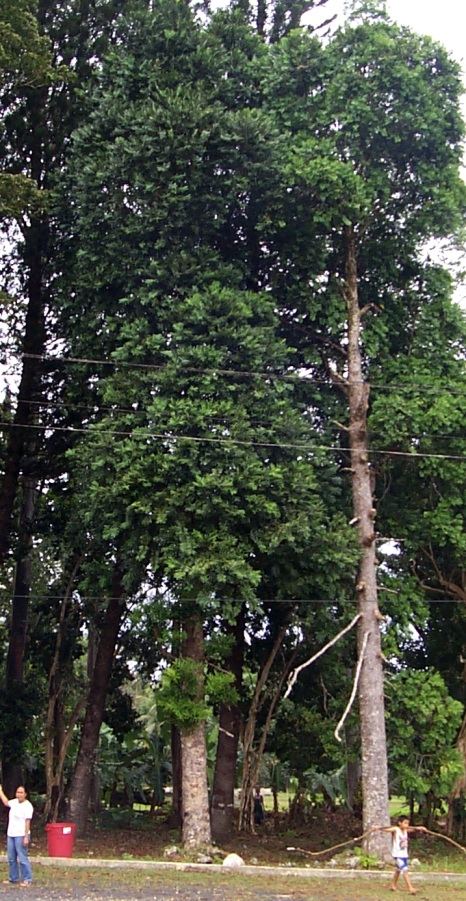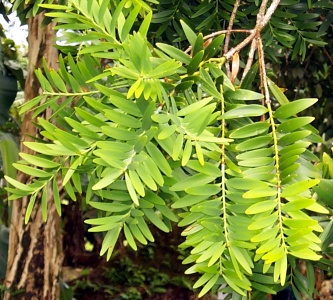 The gymosperms are plants that produce cones. In this sense they are similar to the lycopodium. Two key differences distinguish the gymnosperms. The first is that the cones produce seeds. Seeds are better than spores. Spores carry no food for the seedling, seeds carry both the fertilized egg and food for the seedling. The second key "improvement" is that the sperm is now packaged with other cells in a small dust-like object called pollen. Pollen can be carried by the wind. This removes the need for water to carry a swimming sperm to the egg. In the conifers (gymnosperms, "cone-trees"), the wind carries the sperm to the egg.
Cycads morphology
Cycadophyta: All living cycads are slow-growing, long-lived, dioecious (separate male and female plants), thick-skinned, cone-bearing, woody tropical plants that range in size from that of shrubs to that of small trees. The stems have a broad, starch-rich cortex, and may be subterranean (underground) or aerial in different species. Leaf vasculature traces in the stems are girdling (rounded rings around the trunk). Leaves are spirally arranged in crowns on the stem apex (end of the stem), Leaves are pubescent (hairy) when young.
Araucaria morphology
Gymnosperm Database: A narrowly conical (shaped like an upside-down pointy ice cream cone) tree to 60 meters tall (200 feet). Trunk clear of branches near the bottom, then the longest branches, with branches being shorter higher and higher on the trunk of the tree. Bark gray, papery, branchlets cord-like, growing in one plane (branchlets are "flat"). Leaves awl-like (little spikes) and triangular in cross-section. Male cone is cylindrical, about seven centimeters long by a little less than a centimeter wide; scales triangular, finely teethed (almost looks like a thick scale). To the untrained eye, at first glance the cones might be mistaken for subbranchlets. Female cone about 12 centimeters long by 12 centimeters wide, somewhat spherical (ball-like). Seeds three centimeters long, nut ovate, wings broadly rounded. All Araucaria columnaris on Pohnpei are male.