Material Culture: Thatching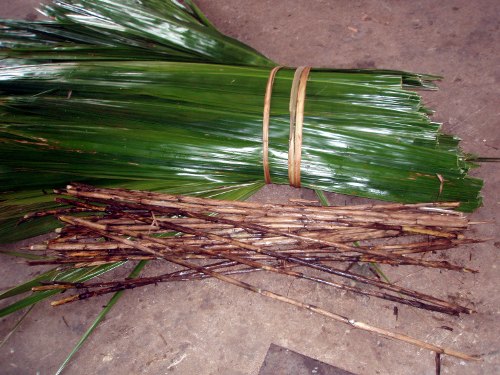 oahs, rahu
Rahu: minor rafters made of either Phragmites karka (Pohnpeian: lirau) or Saccharum spontaneum (Kosraen: loa, Pohnpeian: ahlek).

Joe-ann Matthias splits the nohk
Nohk: The main rib of the stem of a palm frondlet. This is split with the teeth and halved to assist in bending the frondlet around the rahu. This process is necessary due to the thickness of the Metroxylon amicarum midrib (Pohnpeian: oahs). Oahs is indigenous to Pohnpei.
There are two styles of Pohnpeian thatching, doakoahs en Ruk and doakoahs en Pohnpei. Doak means "to pierce" with a needle-like object. On Pohnpei in the past the tip of a marlin (a bill fish) was used as a needle. Today the sharpened end of a toothbrush with a hole in the end is a good needle, nails are also sometimes used. Nails with heads, however, do more damage to the frondlet due to their heads.
Another needle option is a hand-whittled bamboo piece.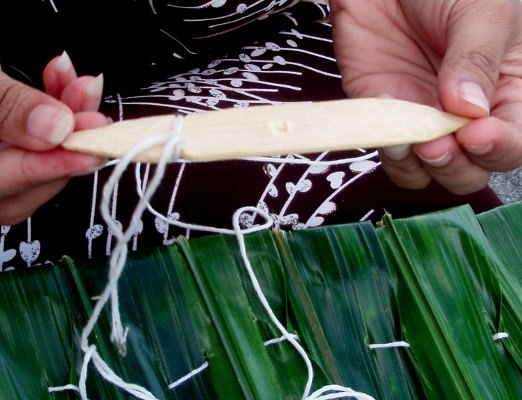 Bamboo needle
String is not typically used to stitch the thatch together. Some use the outer skin of the main petiole on oahs. Others unravel rice sacks of woven plastic.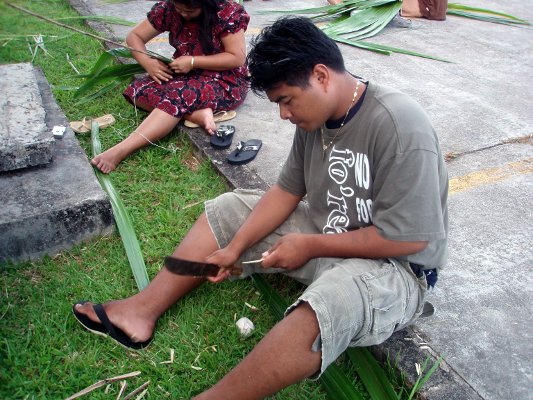 Redeemer Nelson of Chuuk demonstrates carving a bamboo needle.

Yuleen weaving doakoahs en Ruk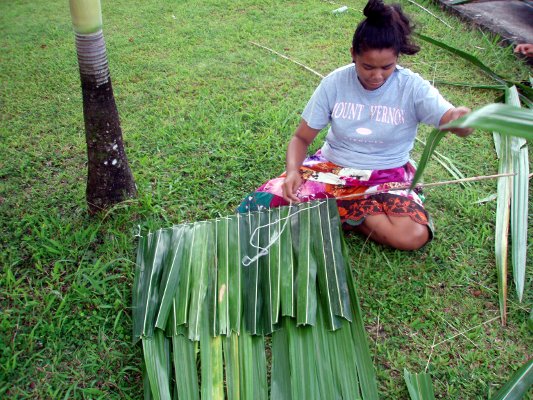 Later in the process.
Note that the frondlets are folded so as to create a one-third, two-thirds split in relation to the length of the frondlet. The base is one-third, the apical end is two-thirds.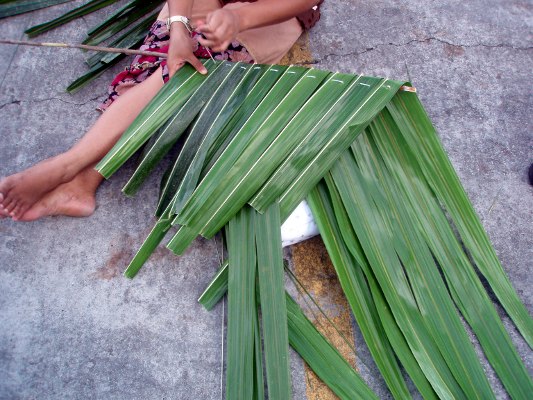 Doakoahs en Pohnpei
Doakoahs en Pohnpei differs in being laid on a 45 degree diagonal. Note that traditionally Pohnpeian thatch was not covered by a net to protect the roof from wind damage. On the flat, outer island atolls in mid-ocean the wind is a more significant source of damage. On Pohnpei rain and subsequent thatch rot are apparently more problematic. Pohnpei thatch is not netted down. The thatch is designed to catch the wind and "fluff" slightly, aiding in drying of the thatch and slowing rot.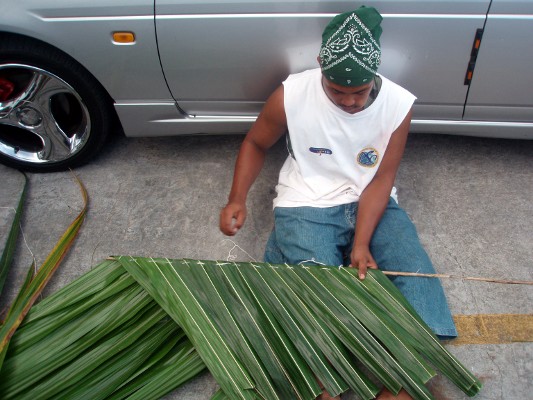 LA Peter produces doakoahs en Pohnpei
Other islands have other styles of thatch using other materials.

Ulithian coconut thatch
Ulithi also uses a dried leaf that is then woven to produce thatch.
Kosrae does not have oahs. Kosrae is presently thought to have only four species of palms. Coconut (Cocos nucifera), betel nut (Areca catechu), Ponapea ledermanianna (Kosrae: kitacr, Pohnpei: kedei) , and Nipa fruticans. On Kosrae Nipa fruticans is used for thatch (Kosrae: fahsuc, Pohnpei: parem). Fahsuc is narrower than oahs. Thatching frondlets are laid down in pairs and folded at the midpoint. Note that Cantina (fall 2008) is working with oahs and not the usually used fahsuc.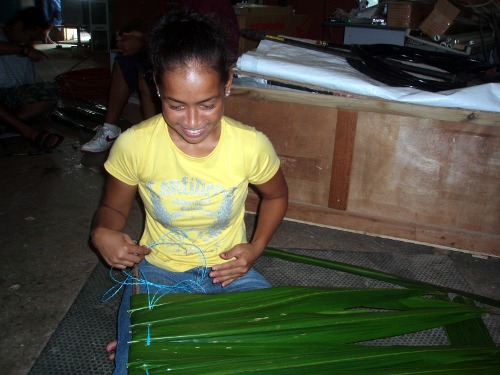 Cantina
Note that Cantina is working with pairs of frondlets in the following image.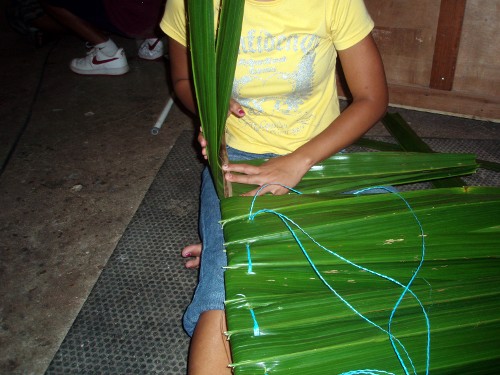 Frondlet pairs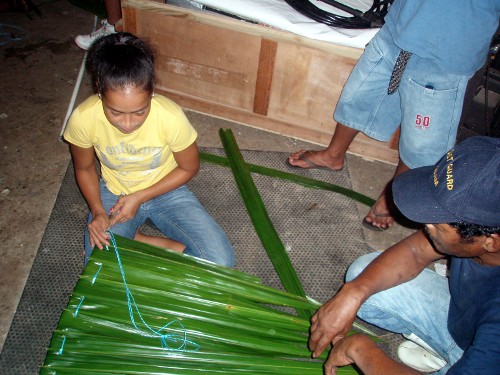 Cantina
Note the spacing on the weave. With a narrower Nipa palm frondlet the weaving would naturally be tighter.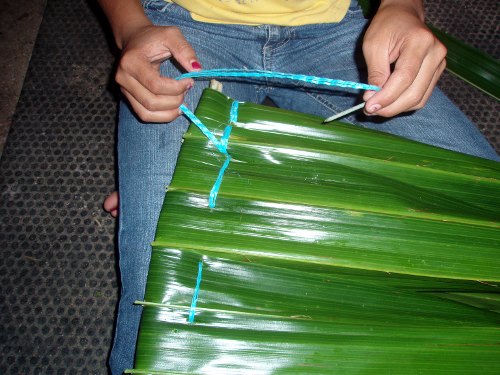 Kosraen weave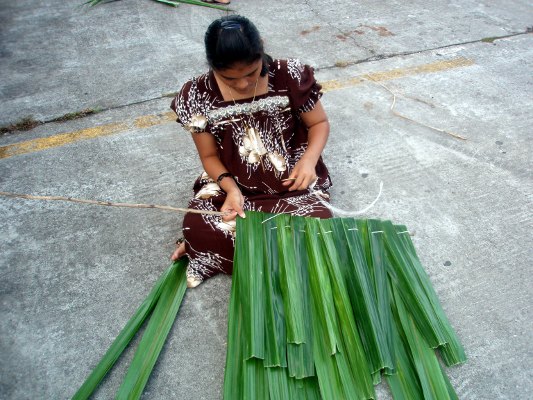 Chuukese thatch
In Chuuk pandanus is used for thatch, as well as coconut palm leaf. Coconut palm leaf has a reputation for a short life span across Micronesia.

Krystal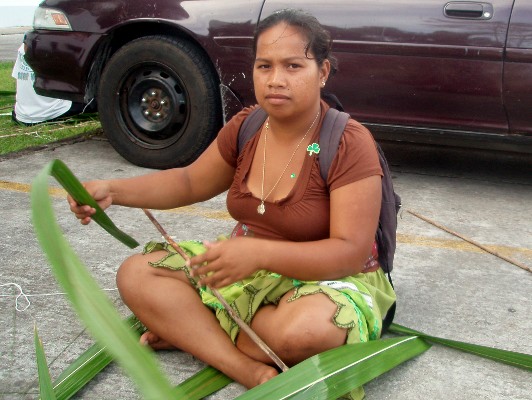 Aleen just starting on doakoahs en Ruk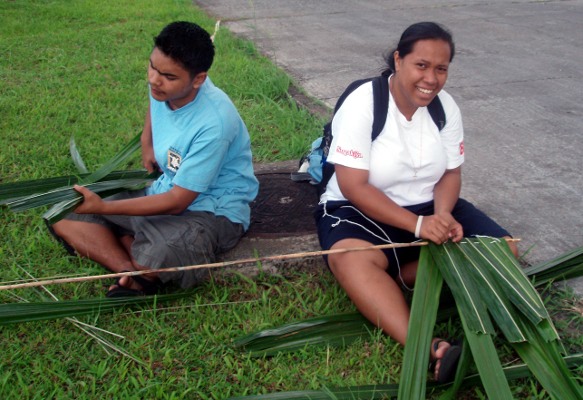 Christopher and Maybeleen work together on doakoahs en Ruk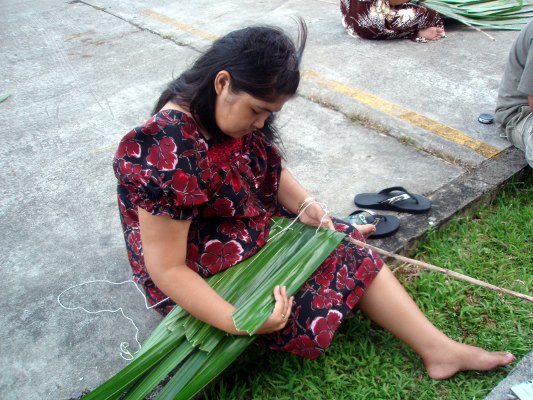 Tracy works on Chuukese thatching
The students from Chuuk were uncertain whether a thatch sheaf had a name in Chuukese.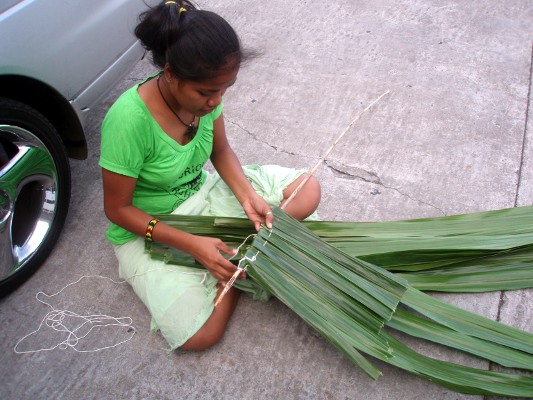 Mayleen Dungawin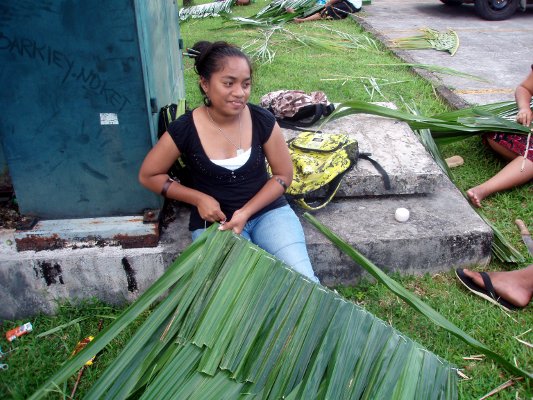 Tesiann
The nohk halves are not thrown away, they make a good broom.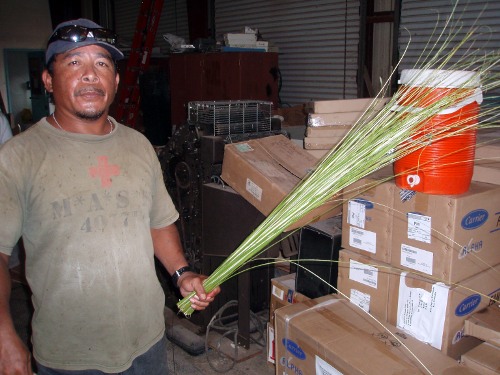 local broom
Santryco (fall 2008) works on the thatch unit that goes on the crown of the roof called a pwarapar. [Source: Robert Andreas]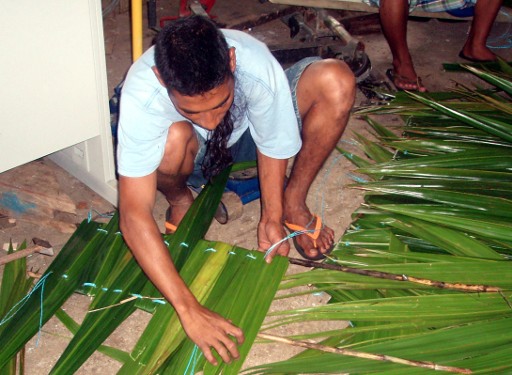 Santryco
Linguistic note: dok is "pierce" while oahs refers to Metroxylon amicarum. The combining of the words is what is known in linguistics as verb noun incorporation or incorporated objects. When the word is by itself, it is dok (intransitive), which means yes, to pierce or to stab. The transitive form of it on the other hand is doakoa. The use of /oa/ is sometimes /o/, depending on the following vowel or consonant sounds. For instance, doakoahs, to pierce oahs, dokpwihk, literally to stab a pig (to pig-slaughter), dokomwomw, to spearfish,etc. [Source: Robert Andreas]