Images from the Ethnobotany and Integrative Medicine presentations
Guest lecturers:
Dr. Michael J. Balick, Vice President, New York Botanical Garden1
Dr. Roberta Lee, Medical Director, Continuum Center for Health and Healing at the Beth Israel Medical Center 2
Tuesday 22 August
Thursday 24 August
Dr. Roberta Lee had the students rank order health by six metrics. The table below tallies the results of the survey.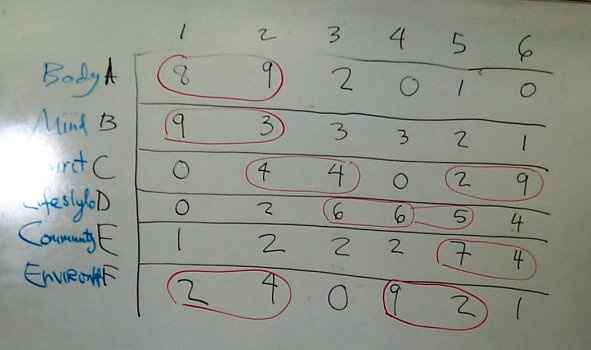 Dr. Lee and Dr. Balick explain survey work to the students.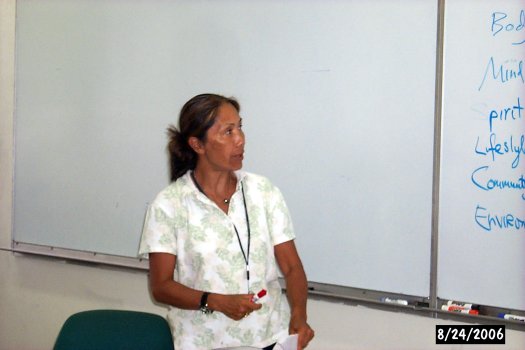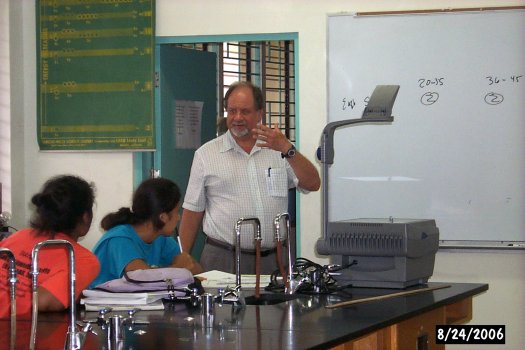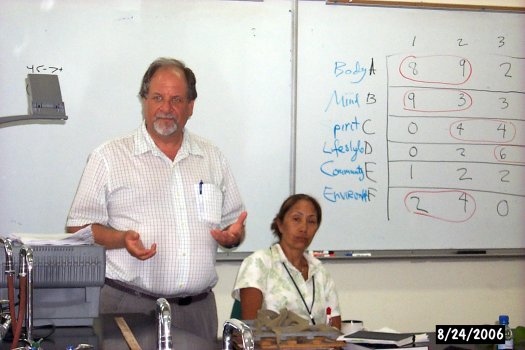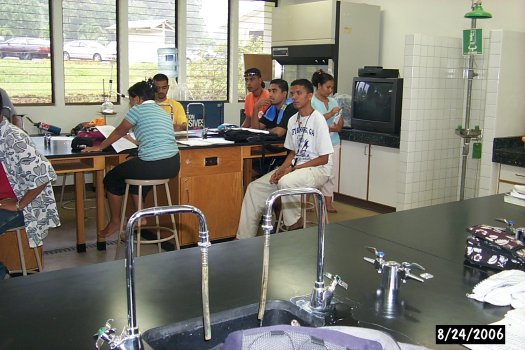 1Dr. Michael J. Balick, Vice President and Chair, Botanical Science Research and Training, Director and Philecology Curator, Institute of Economic Botany, The New York Botanical Garden Ph.D., Harvard University.
For nearly three decades, Dr. Michael Balick has studied the relationship between plants and people, working with traditional cultures in tropical, subtropical, and desert environments. He is a specialist in the field known as ethnobotany, working with indigenous cultures to document their plant knowledge, understand the environmental effects of their traditional management systems, and develop sustainable utilization systems-while ensuring that the benefits of such work are always shared with local communities. Dr. Balick also conducts research in New York City, studying traditional healing practices in ethnic communities of the urban environment. In addition to ethnobotany, Dr. Balick is an expert on the palm family, an economically important family of plants in the tropics.
He is also involved in an ethnobotanical and floristic survey of the Federated States of Micronesia, in particular the island of Pohnpei and its outer atolls. This work is in collaboration with the National Tropical Botanical Garden, The Nature Conservancy, the Beth Israel Continuum Center for Health and Healing, The College of Micronesia and the Pohnpei Council of Traditional Leaders. A major effort in this work is to study the devolution of traditional knowledge, and its impact on the local environment. Outputs will include a checklist of the local flora, a book on primary health care, and an ethnobotanical manual for the island.
Dr. Balick is the author of more than 14 scientific and general interest books and monographs, with titles ranging from Useful Palms of the World, to Rainforest Remedies, to Plants, People, and Culture. His latest book, co-authored with two Garden colleagues (Michael H. Nee and Daniel E. Atha) entitled Checklist of the Vascular Plants of Belize, With Common Names and Uses, is the result of a decade-long study of the flora of that nation . Dr. Balick has published more than 80 scientific papers and contributed to nearly 30 horticultural and general interest publications.
Dr. Balick currently serves as an Adjunct Professor at Columbia University, New York University, Yale University, and City University of New York. He is an active mentor to postdoctoral, masters, and international fellowship students. He is also a co-founder of a course that teaches herbal medicine to practicing physicians and other health care professionals, run in collaboration with Colombia University's College of Physicians and Surgeons and the University of Arizona Program in Integrative Medicine.
2Roberta Anne Lee, MD

Roberta Lee, MD is Medical Director of the Center for Health and Healing, Director of Continuing Medical Education and Co-Director of the Fellowship in Integrative Medicine at Beth Israelís Continuum Center for Health and Healing (CCHH). In addition, she conducts a clinical practice in Internal and Integrative medicine at CCHH. The Center is a multi-disciplinary clinic which includes a mixture of physicians, nurse practitioners, physician assistants and Traditional Healers working together to provide integrative medical management with a special focus on the preventative aspects of health. She recently edited a text on integrative medicine, entitled Integrative Medicine: Principles for Practice, with her colleague Ben Kligler, MD, published by McGraw-Hill.
Dr. Lee is an Honorary Research Associate at The New York Botantical Garden in the Institute of Economic Botany. For the last five years she has traveled back to Micronesia as the ethnomedical specialist in an interdisciplinary team of biologists, ethnobotanists, ecologists and conservationists from The New York Botanical Garden, National Tropical Garden, Nature Conservancy and College of Micronesia. The collaborative effort is a ten year project. Her focus has been the traditional uses of kava, a plant important in the local culture, valued for its community building. Her research interests include studying a cross section of cultural and botanical influences on health, healing and promotion of wellness in chronic disease.
Dr. Lee attended medical school at George Washington University Medical School after completing her undergraduate training at the University of California at Berkeley. Following the completion of her residency in Internal Medicine, she served as a U.S. Public Health service physician in Micronesia for five years. She is one of the four graduates in the first class from the Program in Integrative Medicine at the University of Arizona.
Dr. Lee lectures and writes on the uses of botanical medicine and integrative approaches to a variety of medical conditions. She has served as a member on the ad hoc Botanical Advisory Committee for U.S. Pharmacoepoeia and is a medical advisor for the Herbalist Guild. Currently she is regular contributing editor to EXPLORE: The Journal of Science and healing in a column entitled Notes from the Field, consulting editor for Herbclip a botanical news letter from the American Botanical Council and an Advisory Board Member for the American Botanical Council.