COM-FSM FACILITY RESOURCES!
National Campus
Note!
"This is designed as a class project and not to be used as a reference material for the College of Micronesia-FSM National Campus."

Finally !!!.............. after years and years of anticipation, ""reality" came in 1996 when the College of Micronesia actually vacated the old "run-down" campus in Kolonia and moved to the New College Campus located at Palikir, Pohnpei. Within 2 years of construction, the new college campus was turned over to the College of Micronesia with two 2-story classroom buildings, one faculty office building, one huge Library building, one administration building, one food services building, two dormitory buildings, one student services building, a maintenance shop, one storage building and the newly constructed "China-FSM Friendship Sport Center."
Classroom A, with emphasis on "Math & Science Courses," has two, air-conditioned computer labs with 30 computers in each. The building also have two open classrooms, three science labs and a laboratory prep-room for chemicals and equipment storage. On east wing, you shall find the male restroom and a janitorial supply room. On the West wing, you will find the female restroom and the utility room where electrical control panels are situated. Building A was constructed by Island Engineering & Construction Company during Phase I of the Project and was later completed under Dai Nippon Construction in Phase II of the Project.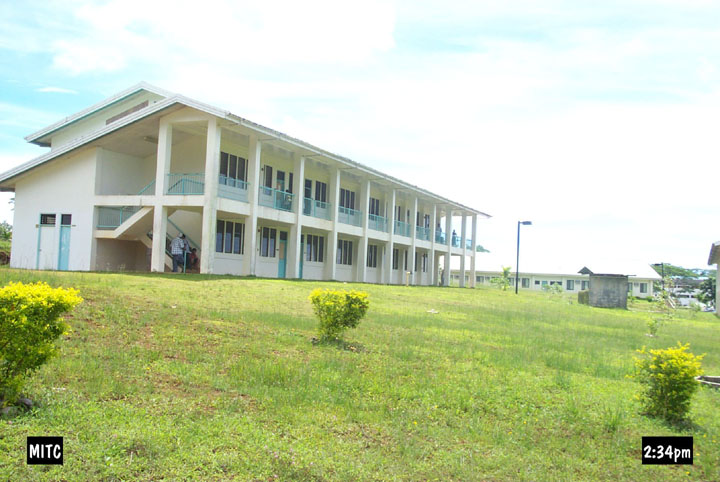 Classroom B was built to accommodate other curriculum offered at the college, requiring mostly open-lecture classrooms. Ground floor consist of four open/lecture classrooms and a computer lab with over 30 computers. Second floor have four open, lecture classrooms and one mini-computer lab.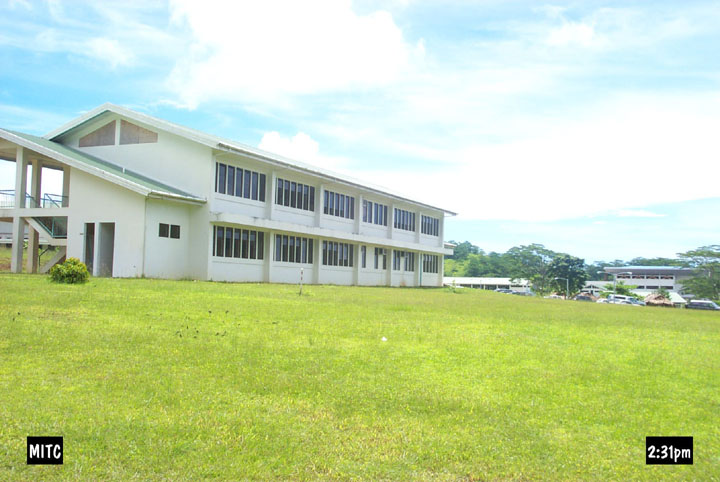 Faculty Office Building is a single story building designed to accommodate faculty offices and working areas. The building is divided into seven main sections, six sections for office spaces and one section for toilet and lounge area. Eac of the six section is divided to accommodate a Faculty Head Office and main area adequate for four workstations/cubicals. Due to increasing number of academic programs and student enrollment, the number of Faculty and Support Staff also increased to teach these courses. In anticipation of increase in student enrollment & new courses, resulting in the need for more Faculty and Support Staff, COM-FSM had asked for Financial Support from FSM and am currently executing a contract to build a new faculty building. Building is schedule to be completed by February, 2003.
Some of the general courses offered are as follows:
English Couses
Math Courese
Science Courses
Computer Courses
etc.
Learning Resource Center is the largest library in the Federated State of Micronesia with qualified and capable staff to manage and assist students in getting full use of the resources the LRC offers. The Library is equiped with over 30 computers with internet connection to assist students with research and class work. Click here to view Hours of Operation. For detail information on the Learning Resource Center, click here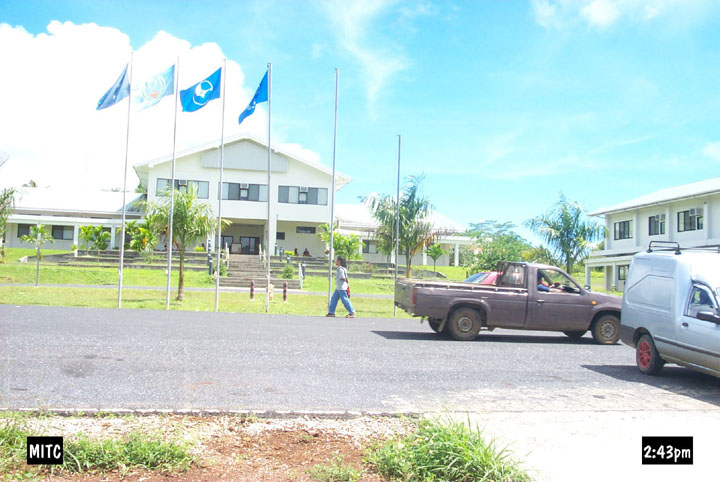 Administration building is the central building that house the office of the President, Vice Presidents for both Instruction Affairs and Support & Student affairs, Directors, Main Offices such as Business Office, Financial Aid Office, Admissions & Records, etc.
Cafeteria Building is situated behind the Administration Building and in-front of the Girl's Dormitory. Cafeteria serve variety of dishes to include Asian Dishes and the tradition cuisine we all love. With a community of the diverse cultural background, the cafeteria stood ready at all times to provide a suitable meal to satisfy the gravings of all cultures. Dedicated Staff work long hours to ensure that the college community is satisfied with what they pay for and money is well spent. Not only does the college provide the best meals, but the cost of meals are unbelievably low, as follows:
breakfast .........$2.00
lunch .............$2.00
dinner.............$2.50
Student Service Building is a single story building that housed the Bookstore where textbooks are sold along with other school supplies, office supplies, and personal other needs. Also situate in this building is the Dispensary which has an office, medical supply room, two examination rooms and a toilet facility. Also included in the building is the Student Support Services Offices where students come for tutoring, relaxation and get advices (both academic and social advices.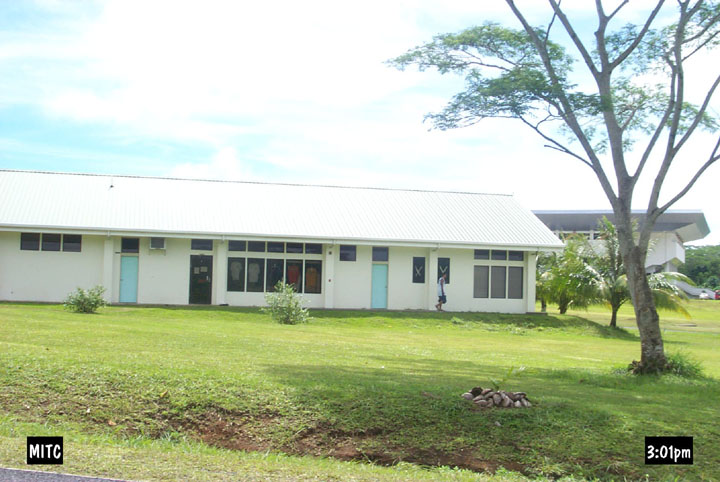 FSM China Friendship Sport Center, recently completed as a donation from the Chinese Government, topped off the facility with its unique Chinese design. Since its opening, the gym had proven to be a "MULTI-PURPOSE" facility for it not only accommodate various sport needs, but it can also accommodate international conferences, national meetings, local gatherings and of-course the college needs such as social nights, sports games, graduation ceremonies, and so forth. For more info, click here!
Note!
"Again, a reminder that this is created soley as a class project and not to be used as a reference material for the College of Micronesia-FSM National Campus. To veiw the true articles about COM-FSM click here!