---
Kosrae-The Island of the Sleeping Lady
---
Hi my name is Tinson Luey from the Island of Kosrae, and I wanna welcome you for visiting my web page. The warmth paradise people of my island always say Pain Kom, so if you wanna know about my Island just read the infromation below. Welcome to my home Island
Mariam, Kenye, Tinson, Gary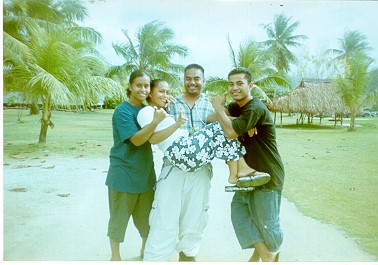 Kosrae has been described as an unblemished garden of flowers, palms and citrus trees. And the clear, clean seas around it are home to healthy and diverse coral reefs. the air is fresh on Kosrae and adventure beckons those wanting to truly get away from it all. Steeped in the history of many decades, the island invites exploration. There are mysterious ancient ruins of the forefathers of the kosraean people. world war artifacts, cave systems and remnants abound and there's even a pirate ship sunk beneath the waves. A hike up to Kosrae's famous Mount finkol will take the explorer past a series of gushing waterfalls pouring through the lush Kosrae jungle. The famous mangroves of the island present a world of opportunity to see nature in all of its peace and solitude. Paddle a sea kayak or a native outrigger canoe through the vast channels of Kosrae for a truly exhilarating trip into the womb of the marine world. Kosrae offers a restful scenic visit that few people get to experience firsthand.
The mangroves of the most amazing to be found anywhere in the world. In some places they form a high jungle canopy where rivers flow below and channels rise and fall with the tides. Immense root systems and a myriad of animal and plant life flourish in these complex ecosystems. There is also a marine preserve on Kosrae where juvenile creatures are allowed to grow and flourish unmolested by man. Not all of Kosrae is paved and villages like walung can be reached only by boat. Here people go about their daily lives without cars or electricity. They commute at high tide and must live both from and with the sea. Kosrae is also known for its abundance and variety of locally grown fruits and vegetables. The air of the island is filled with the scent of sweet produce.
Kosrae beckons the underwater adventurer. More than 50 dive diving pioneers. Each has been marked with a buoy to prevent improper anchoring, leaving Kosrae's reefs pristine and ripe for exploration Beautiful hard coral gardens punctuate the eastern side of the island. On the west, the gardens give way to plunging walls. Sharks, dogtooth tuna, barracuda schools and other exciting ocean citizens can all be encountered along the reef's edge. And a rainbow of colors is found in the gorests of tiny Christmas tree invertebrates that populate the large corals. Kosrae is also known for its extremely clear, warm water that allows visibility of 100 feet or more to be the norm for the visiting scuba buff.