Alpinia purpurata
[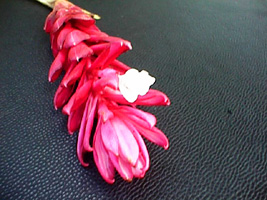 ][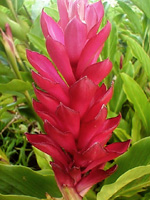 ][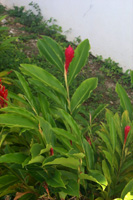 ][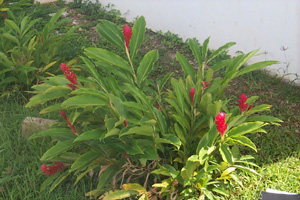 ][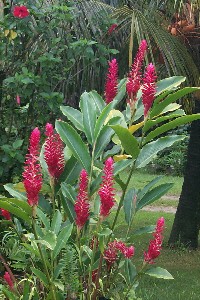 ][
]
Photos taken at the College of Micronesia-FSM on 14 October 1999 and at a home in the Etscheit complex in Nett 03 November 1999. The pink Alpinia is presumed by Lee Ling to be a variant.
Genus Species: Alpinia Purpurata
Family: Zingiberidea
Chuukese Name:unknown
English Name: Red Ginger
Kosrean Name:unknown
Pohnpeian Name:none
Yapese Name:none
Growth Form: Herbaceous
Growth Location: Terrestrial
Growth Environment:cultivated gardens
Growth Zone: Tropical
Average Height: Could grow six to ten feet
Stem: pubescence,circular,green,stem is branching out alternately
Leaf Arrangement: Alternate
Stipule:absent
Petioles: not recorded(lenght),is hairy also
Leaf Blade: lanceolate;mucronate;parrallel;
Inflorescence:spadix
Floral Bracts:present;red;
Flower: not able to observe the flower.
Calyx: no observation done
Corolla:n/a
Stamens:n/a
Ovary:n/a
Style: n/a
Fruit: none
Seed: none
Description by: Shinmaysin Gonzaga. Original descriptive work by John Paul Ori misplaced.