Dryopteris unidentata var. unidentata
---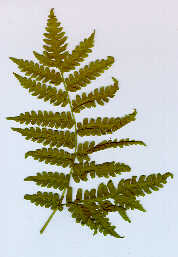 Family: Aspidiacea
1. Pohnpeian name: PeiPei Eni
2. Chuukese name: ?
3. Kosraen name: Ahng
4. Yapese name: ?
Location collected: Daini Street
Date collected: 01 December 1998
Description: Ferns do not have flowers or fruits. They use SPORES to reproduce. Not all ferns have spores. This fern does not have a spore. It was found growing out from its rhizome. It's leaves can grow up to more than a 12 inches long or more. The frond may extend to several feet long.
Habit: Terrestrial
Frond arrangement: clustered
Frond design: divided
Collected by: Bradley Phillip
Botany home page
Lee Ling home
COM-FSM home page