Ponapea hosinoi, Ponapea ledermanniana
Ponapea is a genus of palms endemic to Kosrae, Pohnpei, and Palau in the Polynesia-Micronesia Hotspot (sensu Conservation International). Since it was established in 1924, the genus Ponapea was taxonomically "lost" because its type specimens were destroyed in the World War II bombing of the Berlin herbarium. Its three species Ponapea hosinoi, Ponapea ledermanniana, and Ponapea palauensis, were synonymized under Ptychosperma since 1956 (Moore & Fosberg 1956; Essig 1978). A few grow in botanic gardens, from which DNA samples were obtained. Unexpectedly, DNA sequence evidence indicated that the species formed a separate lineage distinct from Ptychosperma, rekindling our interest in Ponapea as a distinct genus. Based on these findings, the genus Ponapea has been resurrected (Dransfield et al., 2005).
Ponapea hosinoi (Pohnpei: kedei): Distribution: Endemic to Pohnpei. Attractive palm with lightly fragrant flowers. It grows to 12 meters tall and bears inflorescences year-round below its crown of leaves. It differs from Ponapea ledermanniana in having wider leaflets, scaly-brown inflorescence branches, and egg shaped fruit. Both species of Ponapea have the same local name.
Ponapea ledermanniana (Pohnpei: kedei, Kosrae: kitacr) Distribution: Native to Pohnpei and Kosrae. Although it is common on Kosrae, it is rare on Pohnpei. Isolated individuals and small populations are scattered in low elevation forest. Its fruits are edible, so it is sometimes grown in home gardens. It grows to 12 m tall and rarely extends beyond the surrounding tree canopy. Unlike P. hosinoi, this species has bright white inflorescences, and its fruits are tapered at both ends. Its leaflets are narrower than those of P. hosinoi.
Images and text courtesy of Carl Lewis, Researcher, Fairchild Tropical Botanic Garden, and David Lorence, Director of Science, National Tropical Botanic Garden.
Further information:
Presentation announcement
Explore Plants/Fairchild Tropical Botanic Garden
Explore Plants Twitter
National Tropical Botanic Garden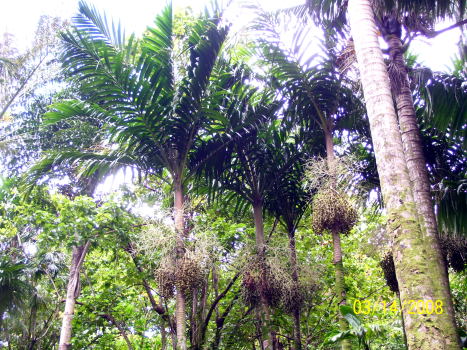 Ponapea ledermanniana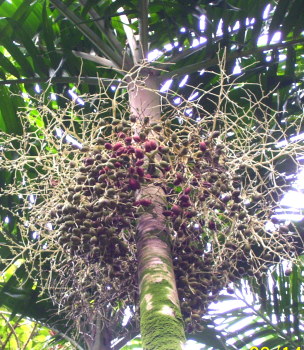 Ponapea ledermanniana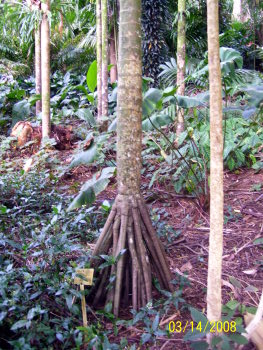 Ponapea hosinoi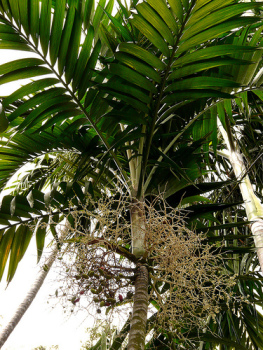 Ponapea ledermanniana