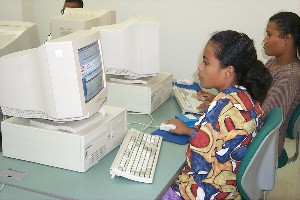 Bridging the Micronesian Islands with Technologically-Trained Teachers
Abstract:
The College of Micronesia-FSM and the Pohnpei State Department of Education are proposing the creation of collaborative Technology Development Schools to implement a program of pre-service teacher education, "Bridging the Micronesian Islands with Technologically Trained Teachers." These two institutions will form a partnership to improve pre-service teacher training through the application and delivery of computer-assisted instruction by COM-FSM faculty, pre-service teachers, TDS demonstration teachers and principals, and appropriate Pohnpei State Department of Education support personnel in selected Technology Development School sites on the isolated island state of Pohnpei (in the former U.S. Trust Territory of Micronesia).
The partnership builds upon the heritage of effective teacher training provided by the only institution of higher education in the Federated States of Micronesia, the College of Micronesia-FSM (COM-FSM), which originated as a regional teacher training institution created to meet the country's manpower development needs in education. Fully accredited by the Western Association of Schools and Colleges, COM-FSM now maintains one national (Palikir, Pohnpei) and four state campus sites with an enrollment of over 1500 full-time students. The Pohnpei State Department of Education (PDOE) provides educational services to over 9,000 students on the main and adjacent islands within the state of Pohnpei.
Collaborative planning between PDOE teachers, building principals, and administrators with COM-FSM professors and administrators has inspired technology-related revisions and improvements within the COM-FSM Bilingual Elementary Teacher Training Program. Pre-service teachers could not previously attempt to implement computer-assisted instruction with students because of limited training and no access to computer equipment or software in the schools in which they were having field experiences. We propose the use of Technology Development School sites for extensive pre-service field experiences which will utilize "mini labs" to train and mentor prospective teachers. These sites will provide supportive environments to use a wide range of interactive technology for improving classroom management, author-ing interactive multi-media lessons, creating web-based student projects, and utilizing tutorial, simulation, and application software to enhance student learning. Instructional approaches will incorporate small group, collaborative, hands-on learning with on-site "just in time learning" support over a one-year period.
1. Pohnpei State and the Needs of Its Schools--Distance, Time, and Technology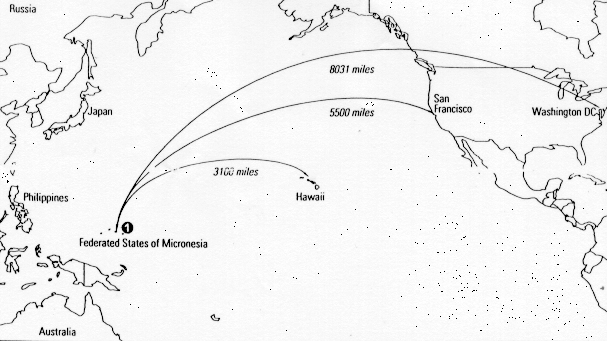 The external reality of learning and teaching in the schools of Micronesia evokes images of bright-eyed children skipping and walking to school with books and papers in their packs or hands. The internal reality of the schools which they enter would probably cause the eyes of most American adults to squint and dilate in near disbelief. Buildings rarely painted, occasionally maintained, and devoid of technology reflect more than benign neglect: they symbolize a system of traditions and cultural isolation weakening and crumbling under the weight of a global culture whose communication patterns speed with tsunami-like force over the shores of these remote Pacific islands.
Geographic and Socioeconomic Context: The Federated States of Micronesia (FSM) is a former U.S. Trust Territory composed of the states of Chuuk, Kosrae, Pohnpei, and Yap. The FSM is spread over 2,500,000 square kilometers of the Northern West Pacific and is comprised of 607 different islands, seventy-one of which are small inhabited dots in the immense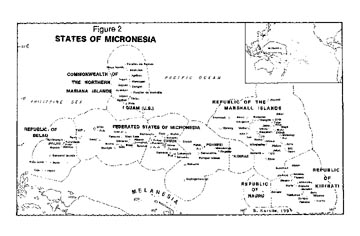 expanse of

the Pacific Ocean. The more than 35,000 people living in the site where our Teachers and Technology Program is projected, Pohnpei State of Micronesia, are spread over a total land area of 127 square miles—the largest land mass in the Eastern Caroline Islands and Federated States of Micronesia. The people of Pohnpei reside on five major groups of atolls and volcanic islands.

The FSM is in a governmental Compact of Free Association with the U.S.which sets forth a unique relationship between the FSM and the United States where financial and other assistance is made in exchange for certain defense related concerns. Under the Compact, certain U.S. programs--such as the U.S. Postal System and various health and educational programs--continue to be provided to the FSM. The average annual income for the FSM is $4740 (1994 FSM Census), considerably below the level of need associated for "free lunch subsidies" in the U.S. The FSM economy is severely dependent upon external funding, especially the funds through the Joint Compact of Free Association with the U.S. (Public Law 99-239). Compact funds accounted for 50% of the FSM economy in 1996.

1.1 Gaps or Weaknesses in Services and Infrastructure

Schools:

Education in Pohnpei State is struggling, partly because of natural conditions, the language and ethnic diversity of the students, the legacy of past dependency—Spanish, German, Japanese, and American systems of dominance--and the unknown expectations for the future. The rumbling wave on the outer reef is the explosion of the young--10,000 one-to-16-year-olds who now compose 50% of the total population. While the US Federal and FSM National Government funding for education has declined over the past ten years, student enrollment has increased by approximately sixty percent. According to the FSM constitution, education is mandatory for all youngsters until 8th grade or age 14. But more than 65% of pupils terminate schooling at age 14, in 8th grade, or earlier. What are the future expectations of the 10,000 one-to-16-year-olds who now comprise 50% of the FSM population?

Approximately 9,000 students are presently enrolled in Pohnpei State's thirty-nine (39) public elementary and secondary schools. Thirty-one (31) public elementary schools and one high school are located on the main island of Pohnpei. Six are located on the outlying coral atolls and one school on an off shore island. Schools in the FSM do not uniformly have electrical power and the question of accessibility from state centers also becomes a major improvement issue relating to professional development, support services, communication, and the ability to provide technical assistance and support at the school and classroom level. Nearly one-fifth of the schools in Pohnpei State are accessible only by boat or ship; one-fourth have no consistent source of electrical power. (All TDS sites have electrical power.) Currently there is only one microcomputer in each of 33 of the 34 public elementary schools in Pohnpei. Each of these is used for management and record-keeping purposes. The very limited use of CAI in Pohnpei occurs in one elementary and one high school.

Teacher Background and Competence: The typical FSM teacher has only an AA/AS degree, with a substantial per cent having no degree. The AA/AS degree is often not in education-related fields and beginning teachers often do not have an academic major, minor, or significant content knowledge in the academic areas to which they have been assigned to teach.
FSM Teacher Degree Status 1998

Teachers

Yap

Chuuk

Pohnpei

Kosrae

FSM Total

%

No Degree

45

332

152

18

547

27.9%

AA/AS

No Data

407

332

133

1079

55%

BA/BS

No Data

103

111

30

296

15.1%

MA/MS

6

18

4

0

28

1.4%

Ph.D.

0

0

0

0

0

0.0%

Total

310

860

599

181

1963

100.0%
Few FSM teachers have previously received training in the use of technology. Only one-third of current PDOE teachers have experienced a 20 hour workshop in the use of word processing, data base, and spreadsheets. The 1998 needs assessment of Pohnpei State school administrators identified getting up-to-date knowledge of the latest educational technology as the second greatest staff development need of teachers in the school system. The current PDOE five-year Strategic Plan has no explicitly stated goals and objectives related to instructional technology, primarily due to their having had no instructional technology coordinator for the last eight months. Planning for this Teachers and Technology proposal brought forth the sharing of a Strategic Technology Plan by COM-FSM with PDOE to further assist their long range planning and development in the area of technology.

Performance of Students in the Educational System

The FSM National Standardized Tests (NST) are being administered for the fifth time in the Spring of 1999 and are beginning to show trends and academic levels of students. Currently, the NST assesses only English and Mathematics at 4th, 6th, 10th and 12th grade levels. Details of student achievement data from the NST indicate that students are performing well below—3 to 4 grade levels-- their international peer group. All indicators--the NST, entrance test data from the COM – FSM, stories from businessmen and colleges and universities where Micronesians are in attendance--provide a picture of students who are, on average, significantly behind their age peer groups in the U.S. Technology-mediated and computer-assisted instruction offers the possibility for higher levels of motivation and achievement by FSM students.

Teacher Preparation and the College of Micronesia-FSM

The only institution of higher education in the FSM, COM-FSM, originated in 1963 as a regional teacher training institution created to meet the country's manpower development needs in education. Fully accredited by the Western Association of Schools and Colleges, it now maintains one national (Palikir, Pohnpei) and four state campus sites with an enrollment of over 1500 full-time students. COM-FSM is currently training 60 pre-service teachers in its 64 credit hour program in Associate of Arts in Elementary Education and 14 more prospective teachers in its 3rd Year Certificate in Education Program. A fourth year program in conjunction with the University of Guam was approved in 1998 and provides a 125 credit hour program leading to a Bachelor of Arts in Education.

The current (1999) COM-FSM Strategic Technology Plan has within it the following goal which provides the basis for its commitment to the "Bridging the Micronesian Islands with Technologically-Trained Teachers" Program: Objective I-4 states "Provide staff, faculty, students, and administrators training and information on the management and effective use of technology." (Pg.1)

The college has five (5) networked computer labs with 128 microcomputers in which pre-service teachers have access. But the current pre-service teacher education program has required prospective teachers to complete only a three (3) credit hour course in Computer Literacy and has provided minimal, if any, experiences with computer-assisted instruction. None of the current COM-FSM education faculty have been trained in the design and use computer-assisted instruction. There has been no application of CAI in field experiences in K-12 classroom settings due to both a lack of training at COM-FSM and availability of computers in PDOE practicum school settings. It is within this context that we propose "Bridging the Micronesian Islands with Technologically-Trained Teachers," a program designed to significantly increase both course and practicum pre-service teacher experiences in the design and application of computer-assisted instruction.

2. Project Design

2.1 The extent to which the goals, objectives, and outcomes to be achieved by the proposed project are clearly specified and measurable.

The main goal of the "Bridging the Micronesian Islands with Technologically-Trained Teachers" program is to provide advanced computer-assisted instruction training to 74 pre-service elementary school teachers, the five COM-FSM Education Division faculty members who teach and supervise the pre-service program, ten PDOE demonstration teachers and five principals who will mentor them in their five Technology Development School (TDS) practicum sites, and the five Pohnpei State Department of Education Curriculum Specialists who will then initiate efforts for extension of the program of mentoring and CAI to future TDS sites in Pohnpei and other states of the FSM (which might be expanded through Implementation Grant resources and support in subsequent years).

Objectives:

To demonstrate to pre-service teachers effective uses of CAI in classrooms with regard to the following:
| | |
| --- | --- |
| | To assist teachers in improving their content information using creative lessons integrating technology and Math, Science, Social Studies, and Language Arts |
| | To assist teachers in creating their own lessons integrating technology |
| | To demonstrate and evaluate the use of technology-mediated mentoring skills to assist faculty and supervising practicum teachers to effectively implement the mentoring process |
| | To provide feedback and support to pre-service teachers through technology as they learn and develop projects to demonstrate their content knowledge and technology skills |
| | To appropriately use and maintain computer equipment in classrooms and laboratory settings |
| | To gather feedback from the project participants to evaluate the Teachers and Technology Mentoring Program |
The Teachers and Technology Program will be evaluated by its ability to train, support, and sustain the use of CAI by program participants, particularly pre-service teachers. This will be demonstrated by: a)participant grades indicating the successful completion of the equivalent of twelve (12) credit hours in instructional technology b)teaching portfolio projects created by participants c)records of classroom observations by COM-FSM faculty and TDS demonstration teachers d)participant journals detailing their experiences using CAI e)mentor surveys from COM-FSM faculty and participating TDS teachers f) instruc-tional technology course evaluation feedback g)records of participant interview and questionnaire data.

2.2 The extent to which the proposed project is part of a comprehensive effort to improve teaching and learning and support rigorous academic standards for students.

Planning and consultation for the Teachers and Technology program included selected COM-FSM academic administrators—including the Vice-President for Instructional Affairs, Education Division faculty members, the Coordinator of Staff Development at Pohnpei State Department of Education (PDOE), and the principals from five PDOE elementary schools. These five building principals volunteered their schools to serve as Technology Demonstration Schools for placement of COM-FSM pre-service teachers with experienced exemplary teachers who would mentor effective instructional practices with them.

As a result of this planning and consultation, COM-FSM has revised its current Bilingual Teacher Education Program to integrate twelve credit hours of specialized instructional technology into coursework which will occur in the second year course, ED 210, Introduction to Teaching, and within Third Year Certificate Program courses in ED 330, Classroom Methods, ED 301a—Bilingual Language Arts Methods, ED 301b—Bilingual Reading Methods, and ED 392—Practicum and Seminar. In the fourth year of the B.A. in Education program, taught cooperatively with the University of Guam, a twelve credit hour Internship or Teaching Practicum, will provide the major focus for CAI strategies in TDS sites. In addition, cohort support groups of pre-service teachers will be assigned to COM-FSM faculty members to enhance program affiliation and retention. COM-FSM faculty will be assigned to specific Technology Development School sites as part of their faculty load to provide mentoring, promote peer coaching, and supervise lessons, practica, CAI materials development, and internships with TDS teachers and pre-service teacher participants. TDS site principals and ten demonstration teachers will attend COM-FSM for a rigorous and intensive CAI program of two (2) three credit courses in both fall and winter semesters, as well as two structured, "hands-on," intensive 2 week workshop courses—each consisting of at least 40 contact hours and conducted during the months of December and April (when PDOE schools are not open).

These workshops will be taught primarily by the project coordinator and COM-FSM 's Title III staff who have backgrounds in both technology and the four specified content areas. Pre-service teachers, COM-FSM Education Faculty, and PDOE TDS personnel will be asked to develop a technology portfolio which demonstrates their technology and content knowledge in Math, Science, Social Studies, and Language Arts or other areas of specialization. The workshops will include: word processing, spreadsheets, database, desktop publishing, multi-media presentations, lab maintenance, evaluation of tutorial, application, and multi-media creation software, WWW: Internet research , Web Page creation, ICQ, and Email.

Portfolios must include:

Projects demonstrating each of the following technology skills and integrating one of the content areas: Math, Science, Social Studies, and Language Arts.

Technology Skill # 1: use of spreadsheets

Technology Skill #2: use of databases

Technology Skill #3: desktop publisher

Technology Skill #4: creation and execution of a multi-media presentation using PowerPoint

Technology Skill #5: Lab Maintenance Manual (word processing skills)

Technology Skill #6: Evaluation of software (tutorial, application, simulation or hypermedia)

Technology Skill #7: Internet searching and webpage creation

Technology Skill #8: Use of multi-media authoring programs such as Hyper Studio or Tool Book

and
| | |
| --- | --- |
| | Lesson plans |
| | Journal information that includes mentoring and self-reflections |
| | Classroom observations |
| | Supervisor observations |
| | Workshop participants' survey |
| | Project participant survey |
| | PDOE TDS student surveys |
| | Samples of participation in List-Serve, email, and ICQ chats |
2.3 The extent to which the proposed activities constitut e a coherent, sustained program of training in the field.

The program will be coordinated and delivered by the Project Coordinator and COM-FSM Title III support staff who are well trained in the use of Computer Assisted Instruction. Course and workshop structure will be intensive, hands-on, and initially very controlled. The participants will have up-to date equipment at their schools to continue practicing their technology skills and to begin integrating technology in their classrooms. The courses and workshops will allow for lectures on content information, demonstration of best practices and lessons with well-integrated technology, and hands-on practice. At this time, they will also have access to continuous on-line support at their school, which will allow for an on-going stream of dialogue between the pre-service teachers, college faculty, TDS mentors, and the program coordinator. Finally, there will be routine evaluations in a variety of forms, which should assist in developing the program into one that will be considered an excellent model to be used by others in the Federated States of Micronesia.
2.4 The extent to which the design of the proposed project reflects up-to-date knowledge from research and effective practice

The Technology Demonsration School model for pre-service teacher education that we propose is based upon practices verified by current and recent research related to Professional Development Schools. Marsha Levine (1992) suggests that Professional Development Schools as partnerships have three main goals: 1) to support student learning 2) to support the professional education of novice and veteran teachers and 3) to encourage inquiry and research related to educational practice. Both Goodlad (1998) and the Holmes Group (1986, 1990) advocated the use of Professional Development Schools to stimulate the "simultaneous renewal" of schools and university teacher education programs. Darling-Hammond (1994) maintains that Professional Development Schools may also offer the possibility to create new frames for teacher learning, build new ways of knowing, and provide new opportunities for restructuring schools and universities.
The emphasis upon restructuring schools with technology has also been an integral part of teacher education and student learning outcomes. Knapp & Glenn (1996) state that current methods in teaching advocate that students should be learning how to find information, then think about and synthesize it, rather than how to memorize it. Students should learn how to explore, examine issues critically, and do collaborative group work, instead of acquiring information primarily from teachers and textbooks. More and more recent studies suggest that computer applications, when incorporated as a part of instruction and used appropriately, lead to higher academic gains. Findings support:

| | |
| --- | --- |
| | The use of word processors in writing programs leads to better writing outcomes than the use of paper and pencil or conventional writing. |
| | Student learning rate is faster with computer-assisted instruction than with conventional instruction. |
| | The retention of content is superior. |
| | Computer-assisted instruction appears to be most effective in the areas of science, foreign languages, mathematics, reading, and language arts. |
| | Lower-achieving students, younger students, and economically disadvantaged students tend to benefit more from computer-assisted instruction. |
Many benefits can be derived from the use of technology in the classroom, but this can only occur if the teachers are trained properly in the use of computers, selection of software, and development of lesson plans that create a learning environment where students are able to internalize and construct their own information.

Means & Olson (1993) researched school reform and technology and summarized that technology:

| | |
| --- | --- |
| | Often stimulates teachers to present more complex tasks and material |
| | Tends to support teachers in becoming coaches rather than dispensers of knowledge |
| | Provides a safe context for teachers to become learners again and to share their ideas about curriculum and method |
| | The research of both Sheingold and Hadley (1990) and Means and Olson (1993) indicate that the following are essential components of a technologically favorable teaching and learning environment: |
| | Appropriate technology must be available |
| | It will take time and practice to integrate technology into the instructional program |
| | Support is needed |
| | Colleagues and administrators need to support the innovation. |
All of these components are included in the TDS model of integrating CAI into both on-campus and practicum pre-service teaching experiences in our "Bridging the Micronesian Islands…" program.

2.5 The extent to which the proposed project will establish linkages with other appropriate agencies and organizations providing services to the target population.

The College Of Micronesia-FSM trains tomorrow's teachers for schools in all four FSM states—Yap, Kosrae, Chuuk, and Pohnpei—and will provide the contacts and institutional incentives for education departments from the other FSM states to sustain and expand the TDS program component in the future.

3.1 The adequacy of support including facilities, equipment, supplies, and other resources, from the applicant consortium and the lead organizations.

The College of Micronesia-FSM and the PDOE will provide nearly two-thirds of all project funds-- with nearly 66% of these funds being committed by partners for the provision of salaries and wages for two full-time Education Divison faculty positions to teach and supervise in the pre-service teacher education program ($60,000+benefits) and the funding of ten full-time equivalent TDS teaching positions to mentor pre-service teachers ($150,000+benefits). The lead organization and partner will provide over 70% of the funds for materials and supplies for the project ($7,500) and all classroom and laboratory facilities for CAI training at COM-FSM ($37,920 equipment lease or rental value). TDS sites will also contribute the value of increased utility costs at their schools. These personnel and facility contributions enable additional technological equipment and expertise from external USDOE resources to be utilized to build the capacity of participating partners beyond the one year of the project and provide a model and infrastructure which may be further utilized by other FSM states.

Approximately 40% of USDOE project funds will be utilized to provide the computers ($60,522) necessary for "mini labs" for training and use by pre-service teachers and their Technology Development School mentors in practicum classroom settings. These computers are desperately needed in school settings where only one microcomputer per school is available, primarily for management and record-keeping. Because COM-FSM education faculty and PDOE "cooperating teachers" have not been adequately trained—or trained at all—in CAI, external expertise will be needed to train them. Though COM-FSM Title III support staff have some expertise in CAI, they have limited availability of time for the Teachers and Technology Program due to the responsibilities they have to complete for their own program.

This necessitates using project funds ($40,000) to hire a Project Coordinator who has expertise in CAI and can devote his full time to training participants and monitoring program activities to insure the successful implementation of the program. Another major project funding need is to subsidize the training ($17,496) of key PDOE school personnel who will be trained in the use of CAI and will then mentor pre-service teachers at their TDS sites.

3.2 The relevance and demonstrated commitment of each partner in the proposed project of implementation and success of the project.

Provision of personnel and facilities to sustain the use of CAI in the COM-FSM pre-service teacher education program by the college and PDOE is vital to the success and future sustainability of the structure of the program to promote the effective use of CAI. It is also evidence of the long term commitment of COM-FSM and PDOE to the improvement of teaching and learning in the schools of Pohnpei State and the Federated States of Micronesia. The institutional credibility of each partner depends upon the effective training of future teachers in the appropriate use of technology, as the impact of technology permeates even the most remote atoll of the FSM.

4.1 The extent to which the methods of evaluation will provide performance feedback and permit periodic assessment of progress toward achieving intended outcomes

The program participants will be evaluated during each course or intensive training workshop on criteria which have been described previously in this narrative: the learning products in their teaching portfolios, on-site classroom observations, journals (which include information regarding their mentoring experience), and participating in the Internet training component which will include participating in a List-Serve, email, and on-line chatting. Evaluation of the program will be derived both quantitative and qualitative data collected from multiple data sources—pre-service teachers, COM-FSM Participating Faculty, TDS Mentors, TDS students-- collected through multiple methods—survey questionnaires, interviews, participant journals, etc.--on multiple occasions.

Sample Interview Questions for Pre-service Teacher Participants:

How often did you meet your Mentor?
How has your content knowledge improved this year due to your mentoring experience?
How have your technology skills improved this year due to your mentoring experience?
What skills did you learn?
How have you incorporated technology into your classroom?

Sample Interview Questions for Supervising TDS Mentors:

How often and how long was your mini-lab used per week?
To what extent do you feel the instructors improved in their technological skills?

Sample Survey Questions for Workshop Participants:

How well do you think the workshop was organized?
How well did the workshop leader explain the information?
How much did you improve in using instructional technology as a result of this workshop?

Sample Survey Questions for TDS Student s:

How did you improve your technology skills this year?
Did you learn more from the traditional lessons or those that used technology? Why?

4.2 The extent to which the methods of evaluation are thorough, feasible, and appropriate to the goals, objectives and outcomes of the proposed project

Evaluation of the CAI skill development of pre-service teachers will occur through a quantitative analysis of their grades, number of course credits, survey data, and resulting GPAs in the courses used to deliver CAI training. A qualitative analysis of data derived from technology portfolios, mentoring journals, faculty supervisor evaluations, lesson observations, and participant interviews will further inform all stakeholders of the outcomes of the project.