College of Micronesia-FSM
News & Information
National Campus students to exhibit shadow puppets and music at spring drama
The National Campus students will be holding a music concert and shadow puppet drama at the FSM-China Friendship Sports Center this spring.
The students will be performing a shadow-puppet drama entitled, "The Seeds We Sow." This is an original story written and directed by National Campus English and drama instructor Anna Dolan.
According to Mr. Diettrich, shadow puppet theatre is a form of drama found in many Southeast Asian cultures and usually blends traditional legends with contemporary social concerns. This spring's story will be about a mythological girl who has difficulties at home and goes on a fantastic journey across Micronesia where she is helped by a cast of interesting and funny characters.
Students from the music classes will also be performing some music which are newly composed and written by National Campus music instructor Brian Diettrich.
The students and the instructors have worked to ensure a special and entertaining show that is also appropriate to the whole family.
Everybody is invited to join the college on May 1, 2008 at 7 pm for a family performance of new music and drama from Micronesia.

Spring Music and Puppet Exhibit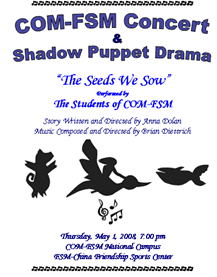 For the first time, the college will be exhibiting a music and shadow puppet perfromance composed and directed by the college's own faculty members.