President's Message to the Community
October 31, 2012
Dear Colleagues and fellow Members of the COM-FSM Community,
Throughout the past academic year and now in the present academic year we continue to engage in purposeful and robust dialogue about many areas of work in which we are engaged. Our accreditation efforts are informed by the white paper and the six month status report.
One of the areas of significant growth and improvement is in our participatory governance. Committees have continued their work and assessment of process which has informed revisions to respective TORs. With the establishment of the council of chairs, effective communication among and between the committees has greatly improved.
The cabinet, council of chairs, directors and deans participated in a historic meeting which identified a gap in administrative organization and resulted in the development and implementation of the mid-level management team. The mid-level management team, now renamed the management team comprised of all the directors and the deans, provides an important forum for sharing information, improving communication, identifying problems and determining potential solutions.
Still, it remained clear that there was another gap in the organizational structure that would need to be filled to ensure the administrative and participatory governance functions of the college would be seamless. Through continued dialogue with the cabinet, council of chairs, faculty/staff senate officers, and the management team came a recommendation to create an executive committee. The executive committee would bring all of these constituent groups together where important matters of the college could be discussed and where recommendations to address these matters would be decided and presented to the president for review, consideration, and endorsement.
To ensure broad representation it is recommended that the executive committee include the president, cabinet, faculty/staff senate president, chair of the council of chairs, chair of the management team, campus deans, and the president of the student body association.
The executive committee will consider and take action on proposals and recommendations from the cabinet, council of chairs, standing committees, management team, faculty/staff senate and student body association. The executive committee may refer academic, professional, and other campus matters to cabinet, council of chairs, standing committees, management team, and the faculty/staff senate, and student body association for review and recommendations.
The governance and administrative organizational schematic is presented below: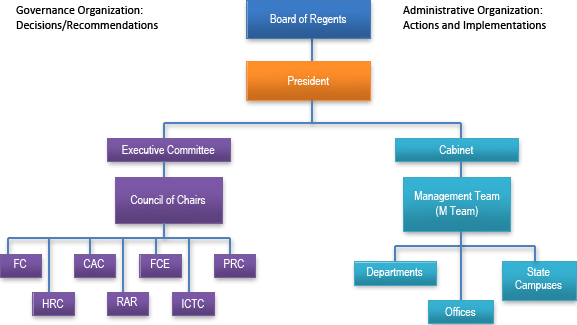 It is anticipated that the executive committee will convene during the week of November 12th on either, Tuesday, Wednesday or Thursday. The date and time will be coordinated through the president's office.
Together we strengthen this institution of higher education for our students, our citizens and our country.
It is a privilege for me to serve you as president.
Warm regards,
Joe
Joseph M. Daisy, Ed.D., President