President's Message To The Community
December 9, 2014
Dear Colleagues and Fellow Members of the COM-FSM Community,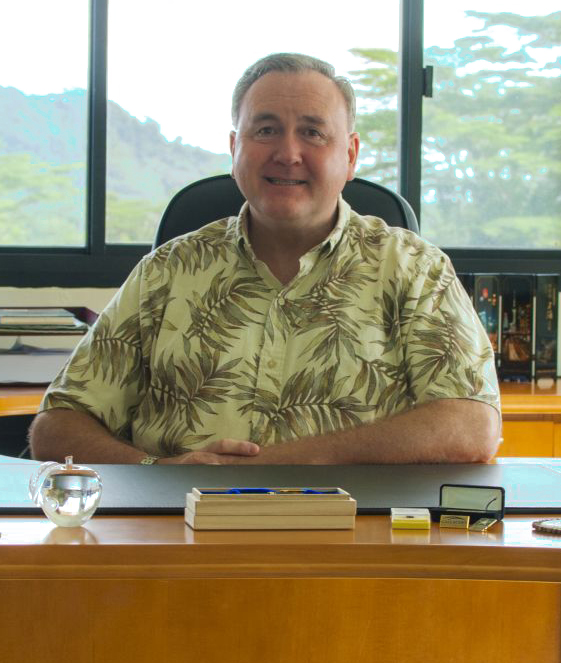 Season's Greetings! During this special time of the year let us be reminded of the many things for which we are grateful. We should be especially grateful to President Mori, and FSM Congress for restoring $2.1 million to the 2015 budget that had been eliminated as a result of the JEMCO resolution. On behalf of the college I am further grateful to the FSM Congress for demonstrating continued support for the college.
Our community has made much progress during the past year. While we have much work to do, I am optimistic that we will be successful. In the remaining days of 2014 and as we prepare to enter a new year, let us renew our commitment to the mission and values of COM-FSM and to each other as valued and respected members of this higher learning community.
We are in the final stages of completing the draft 2016 budget for submission to the Board of Regents at their February 2015 meeting. The budget reflects the needs, goals and objectives articulated in the integrated educational master plan and supports ongoing fulfillment of the college's mission. Continued financial support for the 2016 budget by the FSM Congress, especially the restoration of the scheduled $2.8 million decrement will be critical to our ability to achieve the integrated educational master plan and to address the accreditation issues for which the college is on probation. Such financial support from our nation's leaders will support our accreditation related commitment and progress to move from compliance to constructive engagement.
Since the Foundation of Excellence team returned from training at the John N. Gardner Institute for Excellence in Undergraduate Education in Brevard, North Carolina during October 22-24, 2014, the team had been conducting presentations throughout the months of October and November in all campuses to spread awareness and gain participation. The team had sent out two types of surveys, one for new students and one for faculty and staff. These surveys ask questions about an individual's perception of the institutional performance on each dimension, which there are nine of them. If a college employee or student receives a survey link entitled Foundation of Excellence, please do take the time to complete the survey, as it will help guide our mission to improving and achieving "student success" in all areas of the college.
Upcoming events are outlined below.
On December 13, 2014, Saturday, the college will be holding the 50/50 Raffle drawing at the Pohnpei Campus front parking lot beginning at 9:00AM. The goal of the "friend raiser" is to reach $40,000 USD. The winner will receive $20,000 USD and the other half will go to the college's endowment fund. There will be live music and consolation prizes. If anyone in the community is interested in setting up a booth to sell food, or any items, you can set up a booth free of charge.
We prepare for the college's 60th Commencement on Thursday, December 18th at 9:00AM. As an institution of higher education, no event in the college is as important as commencement. For our students it is a time to recognize and celebrate their academic accomplishments. For the families of our students, commencement provides yet another point of pride. For all of us and for our faculty most especially, commencement is an opportunity to acknowledge our work and success in educating the young men and women who represent the future hopes, dreams and aspirations of the FSM. I am proud of the faculty, staff and administration of COM-FSM and look forward to being among you at this important ceremony on this important day.
Past Events:
During the month of November, the college held two forums:
On November 12, 2014, a forum entitled "FSM's Energy Goals and Challenges" was presented by a panel from the FSM national Government's Energy Division, the Secretariat of the Pacific Community, the Pohnpei Utilities Corporation, Vital FSM Petrocorp and a local NGO called the Sustainable Energy and Farming Solutions, Incorporated.
On November 26, 2014, a forum entitled "Silent Objects: Traditional Musical Instruments of Micronesia" presented by Dr. Brian Diettrich, an ethnomusicologist and a lecturer from the Victoria University of Wellington, New Zealand.
Please continue to visit our college website for news, announcements, and events at www.comfsm.fm.
Thank you for all of your work, effort and dedication this year in service to the students we serve. Each of us plays an important role in the successful implementation of the mission of COM-FSM. Together, let us look forward to the challenges and opportunities we will surely face in 2015. Given how well we have all come together, how well we communicate with each other, and our shared purpose to secure the future for COM-FSM and our students, we can only grow stronger.
It is a privilege for me to serve you as president.
Please accept my wishes for a Merry Christmas and a happy and healthy New Year.
Warm regards,
Joe
Joseph M. Daisy, EdD, President